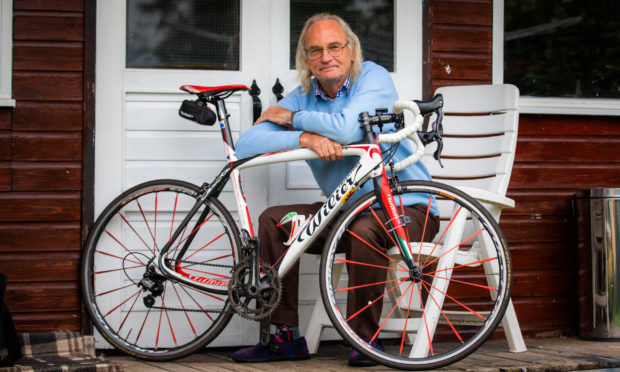 A Stanley cyclist has praised medical professionals who saved his life after he suffered artery problems following a mammoth journey around a Highland Perthshire loch.
John Shelley pedalled 72 miles around Loch Tummel on a baking Friday in August, taking time to stop and hydrate when necessary.
The 69-year-old said he felt tired and tense when he got home, but thought it was just the result of the gargantuan cycle.
But when the feeling began to intensify, John asked his son to call an ambulance.
Paramedics were at his home in a matter of minutes and he was whisked to Perth Royal Infirmary (PRI), where he received a chest x-ray.
John was welcomed into the ambulance by a familiar face, the same paramedic who "scraped him off the road" after he had come off his bike at 65km per hour in the Sma Glen eight years earlier.
Retiree John was then rushed to Ninewells to have an emergency stent fitted to a blocked artery.
The process took longer than usual but John said he never felt "at risk" during his ordeal.
He said: "It was a really sticky and clammy day. I was stopping and drinking but I thought I wasn't feeling well.
"It didn't get better once I was home and my breathing became panicky — so I got my son to phone an ambulance. They were here in record time.
"It was the same paramedic who scraped me off the road at the Sma Glen. He recognised me straight away.
"I was taken to PRI for a full chest x-ray. Within a few minutes of the results I was taken to Ninewells and on arrival was taken straight into the operating theatre…it took less than one minute from ambulance to operating table.
"Stents were fitted to my arteries and I was transferred to the coronary care unit for three days rest until I was transferred back to PRI for an overnight stay.
"Things could have gone haywire but they were so professional.
"There is no question that every member of the NHS teams involved — from the paramedics, clinical staff, theatre and nursing staff — at both Ninewells and PRI  contributed to saving my life."
After a couple of weeks taking it easy, John has made it back out on his bike, travelling as far as Dunkeld.
With no races in the calendar this year, the veteran cyclist will be taking it easy for the rest of the summer but is delighted to be back in the saddle.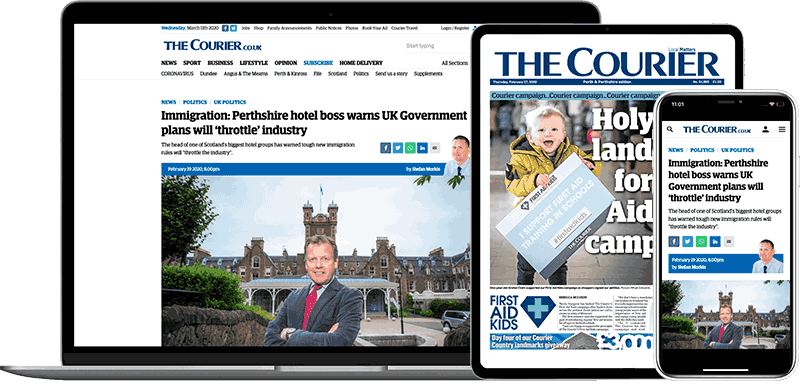 Help support quality local journalism … become a digital subscriber to The Courier
For as little as £5.99 a month you can access all of our content, including Premium articles.
Subscribe