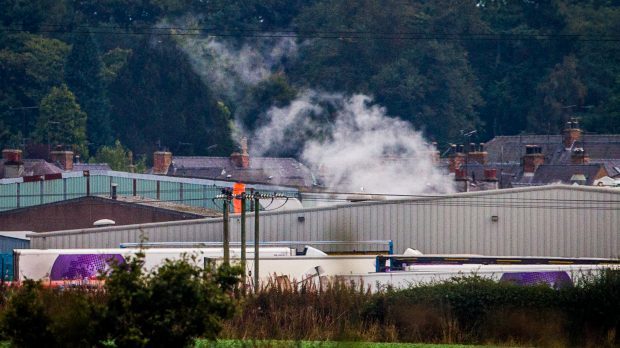 Hundreds of workers at a Covid-hit chicken factory have been forced into quarantine without pay, it has emerged.
The 2 Sisters plant at Coupar Angus was ordered to close last week after an outbreak of positive cases.
On Tuesday, The Courier revealed all 900 permanent staff will be paid in full, on the condition they comply with government guidelines and stay indoors.
However, around 250 agency staff who also work at the factory have been told they will not be paid while they stay in isolation. Many of the workers are on zero hours contracts.
The 2 Sisters Food Group says it is not responsible for their wages, with all pay and other conditions handled by the recruitment providers.
It is understood all agency workers have been offered statutory sick pay or holidays while the factory remains closed.
Yesterday, the number of cases rose again to 166, including 146 workers and 20 of their contacts.
One worker said: "It's an awful lot of families to be left living in serious hardship.
"We have been working in the same conditions as the rest of the staff, putting ourselves at the same risks, but we are being left to fend for ourselves."
The employee, who has twice tested negatively for the virus, said: "My daughter's fourth birthday is coming up and we've got absolutely nothing. We've been told we can only leave the house to take a test, and a lot of our family work at the factory too so we can't rely on them to come out and help us.
"We are key workers, but we've been forgotten about. We have to rely on food parcels being handed out by the council. If we didn't have them, I don't know what we'd do."
A spokeswoman for Unite Scotland said few of the factory's agency workers were members of the union, but urged them to consider joining. "We believe that the agency staff should be treated no differently to those employed by 2 Sisters," she said. "They should not be suffering further detriment as a result of this factory closure."
Unite said that, along with 2 Sisters, they were "disappointed about the lack of opportunity to take part in the decision-making process" around the factory closure.
They said that, while supportive of the factory closure on health and safety grounds, they had "lost the opportunity to discuss the financial implications prior to the suspension of process operations."
The Scottish Government confirmed the Incident Management Team recommended the shutdown on Sunday, August 16, as a matter of urgency. This was conveyed to 2 Sisters by Perth and Kinross Council.
Local SNP MP Pete Wishart said: "There is no doubt in my mind that agency staff should be treated the same as those workers employed directly by 2 Sisters.
"They are expected to put themselves at the same risk as the rest of the workforce and should benefit from the same support that those permanent staff have whilst self-isolating.
"I will be raising this further with the relevant authorities to see if there is anything further that can be done."
Mid-Scotland and Fife MSP Murdo Fraser has urged the factory operators to offer more support. The Conservative said: "I hope the 2 Sisters company is sympathetic to the plight of these workers, as they will be relying on them to work once the site re-opens.
"They can't be expected to survive on nothing just now, so need some support from the company."
NHS Tayside's Associate Director of Public Health Dr Emma Fletcher said the latest total – a rise of 10 cases in 24 hours – was "encouraging".
"However, this outbreak, and other ongoing situations in Tayside, remind us of how important it is that we all continue to take measures to reduce the spread of Covid-19."
Nicola Sturgeon referred to the outbreak at First Minister's Questions, explaining that more than 5,000 people had been tested in Tayside over the last seven days.
"That's good progress and I'd like to thank everyone who has been working so hard to manage this outbreak," she said.
"So far, the testing has not revealed a large number of positive cases amongst contacts of the workforce and there is still on evidence at this stage of wider community transmission.
"That said, contact tracing and testing is still ongoing."
She urged factory workers and their households to keep isolating, even if they have received a negative test.
The factory is due to reopen on Monday.