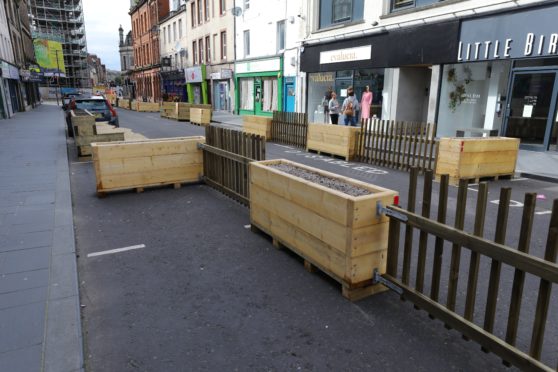 High Street shopkeepers claim their takings have dropped by as much as 80% after council chiefs pedestrianised the road and installed a series of wooden "parklets".
More than three-quarters of businesses on the recently transformed thoroughfare are now demanding Perth and Kinross Council reopen it to traffic.
The move to install parklets and street furniture in the city centre began earlier this summer as part of a £1.1 million scheme to make the area safer as lockdown restrictions eased.
The programme, which began on George Street with street furniture placed over parking spaces and loading bays, was expended this month to include the top section of the city's High Street connecting Scott Street with North and South Methven Street.
However, within just a couple of weeks of the latest installation, business owners have reported a drop in takings of as much as 80%.
Some have complained individually to council bosses about banning traffic and filling parking spaces with wooden seating areas.
But an open letter to Perth and Kinross Council has now been signed by the majority of shopkeepers who operate along the road.
The petition was started by Mobile Solutions manager Imran Javid, who said the "beauty of the street" was the ability to stop for five minutes in the parking spaces to nip into one of the stores.
Addressed to the council's planning department, the letter asks that the planters blocking spaces are removed and a consultation process is then started.
The letter reads: "We are seriously concerned about the impact of these measures on our business which are still trying to recover from lockdown.
"We have already been badly affected by the lockdown and we do not think yourselves or elected members realise the difficulty local shops are facing with this road closure, which many of us objected to but our objections seem to have been ignored."
Imran has run his mobile phone business for three years and has seen taking fall by more than two-thirds over the last two weeks.
He added: "The beauty of this street is the ease of shopping here. This is killing business for us.
"Our customers park outside for five minutes and and everything is handled quickly. We've lost that now."
City centre councillor Chris Ahern said the project was paid for with Scottish Government funding and expects the wooden infrastructure is to be painted.
The Conservative is unhappy with the pressure put on council officers to spend the Holyrood-funded cash.
He said: "The measures were decided during executive powers. When I was made aware of the plans, I did immediately raise some objections especially with concerns over disabled access to the shops and also access to the North Church for funerals.
"It would appear that once again the Scottish Government are acting without thinking and asking local authorities to put in measures without thinking about the effects these will have on local businesses.
"I asked that if restriction were going to applied, that they were then similar restrictions as on the rest of the existing High Street.
"I have been in contact with a number of the businesses and will be meeting some to discuss the issues with them.
"My only thoughts are that the majority of the traffic was through traffic and did not stop in the street, and people that will park in the Mill Street car park will use this stretch to access the rest of the city centre shopping and restaurants and make it easier for pedestrians to explore the shops.
"I understand that the street furniture is to be painted and should make them more attractive and acceptable.
Council officers explained due to public safety demands and the need to create more room for physical distancing, the closure was made to help businesses manage queues outside their premises and providing additional space to serve their customers.
Bosses say nearly 30 businesses in Perth have been able to use additional outside space to support their trading and while disabled parking is still available, chiefs will continue to engage with businesses.
A council spokesperson said: "The primary reason for closing this part of the High Street was public safety, helping to prevent the spread of Coronavirus by creating more room for pedestrians to observe physical distancing.
"This is also intended to help businesses manage queues outside their premises and provide additional space to serve customers, should they wish to use it.
"To date we have developed proposals with 3 businesses in the street to use additional space in the street for trading to help sustain the business and economy. Elsewhere in the surrounding area and city centre 29 business and 10 in our rural towns have been supported to enhance trading conditions through the additional temporary use of space
"Disabled badge holders are still able to park in the closed off section of the High Street and customers able to enter area before 11 or after 4 to collect goods or access services similar to other areas in the city centre.
"We are happy to engage further with businesses regarding their concerns and consider any adjustment that may be required although out primary objective remains the need to maintain public safety."