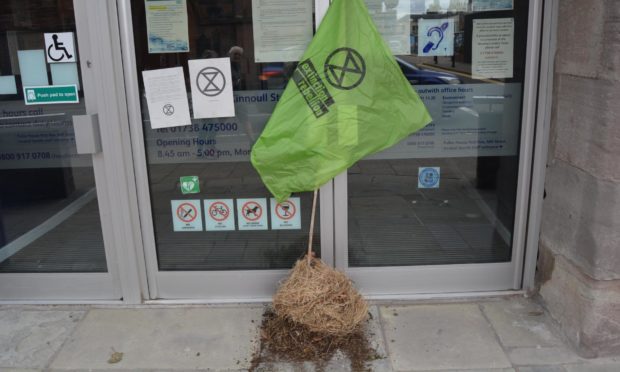 Council bosses in Perth have defended their use of "toxic" weedkillers in children's playparks after a demonstration by Extinction Rebellion protesters.
Members of the global environmental movement dumped a sackful of soil and vegetation from a local park at the door of council offices.
They are condemning the local authority's "needless and excessive use" of Glyphosate-pesticides.
Glyphosate is already banned or restricted by about 40 British councils and has been outlawed in green public places in France since the start of 2017.
Italy, Denmark, Sweden, the Netherlands and Belgium are also in the process of making their towns pesticide free.
Perth and Kinross Council admitted it does use the controversial herbicide, but has no immediate plans to stop because there is no viable alternative.
However, the council did reveal it is trialling a non-chemical weedkiller, which if successful could be rolled out across the region.
A spokesperson for the Extinction Rebellion Perth and Blairgowrie branch said: "We are witnessing a catastrophic collapse of the Earth's ecosystems driven by our arrogance and apathy.
"In the UK alone, a quarter of species face extinction and insect numbers are in meltdown, threatening to wipe out our fruit growing industry as well as everything we hold dear in our environment."
A council spokeswoman responded: "All chemicals used by Perth and Kinross Council and contractors working on our behalf are approved by the Scottish, UK and EU governments.
"Their use is standard industry practice in local amenity maintenance."
She said: "The predominant chemical is Glyphosate, which is widely used within the amenity sector in both public and private arenas. All chemicals are applied by highly trained staff according to the manufacturers safety data sheets and only where and when they are required.
"We continue to review all our working practices and will consider any cost effective alternative; and are in the process of piloting an alternative non-chemical weedkiller.
"If this proves to be successful we will examine how we roll this out across the area.
"However, in the meantime the withdrawal of chemical weedkillers without a viable alternative would result in areas becoming overgrown with weeds. Before we could take such a step a thorough public consultation would need to be undertaken with residents to determine if they would be willing to accept this."