Fire chief says cause of River Tay reed bed inferno may never be known
Fire chiefs have admitted they may never know what caused a huge blaze that engulfed almost two miles of River Tay reed beds.
Emergency services were scrambled to the riverbank site near Errol in April after reports of smoke billowing from the wildlife haven, now a site of special scientific interest.
Fire crews spent nearly 10 hours tackling the inferno, as it spread west through the wetlands.
They were able to contain the damage to a stretch of the riverbed measuring 1.9 miles by 0.6 miles with the aid of Errol helicopter pilot Guy Stephens, who spent hours dumping water on the reeds.
At its height, the flames rose as high as 40ft.
LONG READ: How firefighters and a local pilot battled to save a River Tay wonder – and how 'amazing' site could recover in months
During a virtual meeting of Perth and Kinross Council's housing and communities committee, a leading firefighter said the cause of the blaze has never been established.
Scottish Fire and Rescue Service group manager Billy McLintoch said: "At this point, there is no real cause for it.
"It's down at this point as accidental because we can't actually get to the bottom of where the source was."
VIDEO: New footage shows life returning to River Tay reed beds just one month on from huge blaze
He added: "Thankfully, because it was a protected site around wildlife, we actually got some assistance to bring in a helicopter to extinguish it.
"As I am sure you are aware, the risks out in that reed bed are substantial for any firefighter, so the helicopter was a massive help to resolve that incident and quicker than we probably would have."
Days after the incident, an expert on the reed beds told The Courier he suspected human involvement in the blaze.
Graham Craig, who had worked on the Carse of Gowrie riverside for decades, said that a fire "wouldn't just start of its own accord" at the site "even if it was the warmest day of the year".
He said it may have been started by a person, possibly accidentally.
Mr Craig said the fire-hit section of reeds, the widest in the area, amounted to "10 or possibly 15 years of standing reed there that's never been touched".
RPSB Scotland said it would take between a year and 18 months for the habitat to fully recover.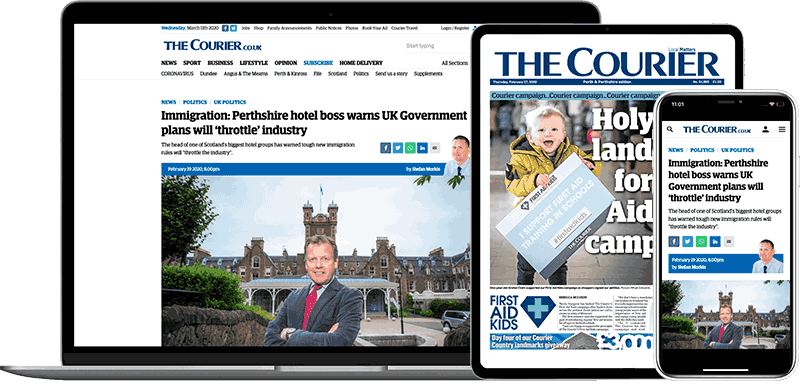 Help support quality local journalism … become a digital subscriber to The Courier
For as little as £5.99 a month you can access all of our content, including Premium articles.
Subscribe