Coupar Angus chicken factory workers 'lived in disgusting conditions without social distancing during Covid-19 outbreak'
2 Sisters workers were living in "disgusting" crowded conditions at a Coupar Angus guest house during the coronavirus outbreak with little social distancing, it has been claimed.
Numerous chicken factory employees were among nearly 30 people crammed into around 10 rooms at Enverdale House in the Perthshire town at the height of the Covid-19 outbreak which infected over 200 people.
A former tenant who lived at the accommodation for three months at the height of the 2 Sisters outbreak revealed their concerns about the living conditions at the guest house, including a lack of social distancing or access to hand sanitiser.
The concerned resident, who wished to remain anonymous, also claimed the owners had around 10 people sleeping in the gym at one point during their stay.
The tenant, who was not an employee of 2 Sisters, told The Courier: "There was absolutely no social distancing at all.
"There was no hand sanitiser, it was disgusting. There were confirmed cases on the property and the place wasn't even getting cleaned at all.
"It's absolutely horrendous, there's very crowded rooms. There was about four to six people in one room.
"There's parts of the roof caving in. The bathrooms are absolutely disgusting. There's urine all over the floor.
"There's rats outside the size of cats hanging about the bins, the bins are all over crowded and there's rubbish everywhere."
The former tenant, who recently vacated the property, believes 2 Sisters workers staying at Enverdale House were paying £65 per week to stay in the accommodation.
"It's time everyone knew about it. People are getting charged to stay there £65 a week and the conditions are horrendous.
"They don't deserve to be treated like that. Environmental Health should have shut them down."
2 Sisters told The Courier they were aware at least two employees had used Enverdale House but insisted it was not their responsibility to source accommodation for staff.
A spokesperson for the company said:"We do conduct postcode checks for the purpose of monitoring for modern slavery, so we are aware of the use of multiple occupancy homes by small groups.
"Any worker that comes to the UK needs to secure their own accommodation that is suitable and in some instances we understand agencies such as GLAA-appointed overseas agents will help.
"We would re-emphasise the messages we made on factory re-opening: we believe it is critically important for our people to understand their obligations away from the factory in the local community.
"Since re-opening, colleagues have received training and best practice guides on issues ranging from transport arrangements, conduct in the community, to keeping Covid-safe in a shared household.
"We expect each and every colleague to take personal responsibility for their own behaviours outside of work."
Coupar Angus coronavirus outbreak hits 200 cases as staff return to work following 14-day isolation
Despite the large number of people reported to be staying at the Coupar Angus guest house, Perth and Kinross Council is still in the process of considering a HMO (multiple occupancy) licence for the property.
The local authority said it has also provided support to residents staying within the house in recent weeks, including food packages, welfare support and housing advice.
A council spokesperson said: "The premises was recently inspected in accordance with HMO guidance and to assess Covid-19 control measures.
"The applicant has been advised of the findings from the inspection and the measures required to be undertaken.
"Our ongoing engagement will ensure that the landlord meets their obligations to provide residents with suitable accommodation that meets all required standards.
"However, in the event that the required standards are not met appropriate action will be taken."
The owner of Enverdale House did not respond to an approach for comment.
Coronavirus: Investigation into Coupar Angus outbreak comes to an end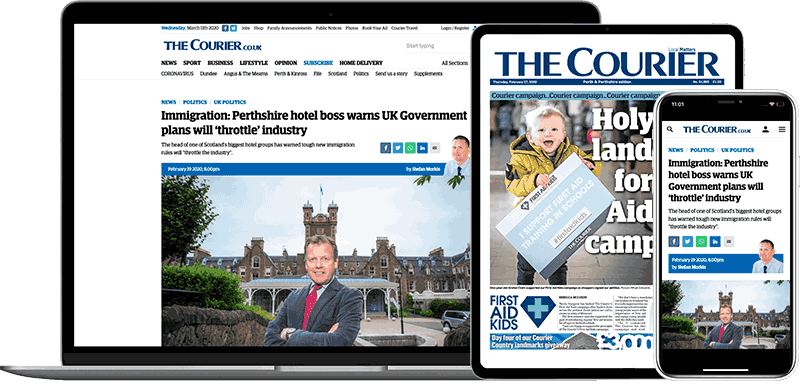 Help support quality local journalism … become a digital subscriber to The Courier
For as little as £5.99 a month you can access all of our content, including Premium articles.
Subscribe