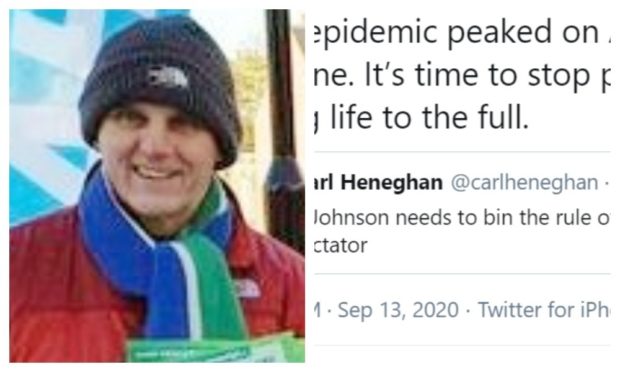 A Perthshire councillor is facing calls to resign after posting a message on social media claiming the coronavirus epidemic had ended.
Conservative David Illingworth sent a tweet suggesting that the epidemic peaked on April 9 and finished at the end of June.
Resignation calls after Perthshire Tory councillor claims coronavirus 'epidemic' ended in June
The message was accompanied by a link to a Spectator article calling on Prime Minister Boris Johnson to over-rule the Scottish Government's new six-person gathering rules.
Mr Illingworth, who represents the Almond and Earn ward, said it was "time to stop panicking and get back to living life to the full."
In a subsequent tweet, he said: "My degree is in economics and statistics and I'm a big fan of evidence based decision making."
Asked about the comments by The Courier, Mr Illingworth said: "I want to make it clear this is not the policy of the Conservative party, this is my own personal view."
His statements have been criticised by opposition councillors and by senior members of his own party.
A Scottish Conservative spokesperson: "The Scottish Conservatives are fully supportive of measures that suppress the virus.
"The party does not share Councillor Illingworth's personal view at all. The pandemic is not over.
"Daily cases are at a four month high and it's essential that we all follow public health guidance."
Scottish Conservative MSP Liz Smith, who represents the Mid Scotland and Fife region, said: "I do not agree with Councillor Illingworth. He was speaking in a personal capacity and it is not a view shared by the Scottish Conservatives."
Conservative leader of Perth and Kinross Council Murray Lyle said his colleague was entitled to his view.
"It's not my view. I think the rule of six is likely to be shared by all nations across the UK for some considerable time," he said.
"As far as I'm concerned this is just a personal opinion and I don't share it."
Mr Illingworth's political opponents were less forgiving.
Deputy First Minister John Swinney said the statement was "recklessness at its worst", while city centre SNP councillor Eric Drysdale said he should quit.
"What an incredibly irresponsible message for an elected councillor to put out on social media," he said.
"Try telling that to the 439 confirmed cases in Tayside alone since end of June.
"At a time when cases are on the rise again across the UK, this is a disgraceful tweet. Resign now."
SNP group leader Grant Laing branded the condemnation as "pretty weak" and said Mr Illingworth had "overstepped the mark."
He added: "This isn't political, this is dangerous.
"It's worrying that Councillor Illingworth seems to be denying the epidemic is still ongoing while his administration are spending so much time and effort trying to mitigate the effects of this disease."
Mr Illingworth came under fire earlier in the summer for a tweet which compared the transmission of Covid-19 to that of HIV.
Perthshire councillor slammed for likening the transmission of coronavirus to that of HIV