In just a few weeks, hundreds of people will undertake one of the biggest adventure challenges of 2016 – the Cateran Yomp.
Taking place from June 11 to 12, the event will see teams of three to six people starting in Blairgowrie and hiking a stunning circular route which takes them through Kirkmichael, the Spittal of Glenshee and Kirkton of Glenisla.
If the 54-mile gold route seems too daunting there's also a 22-mile bronze option or the 36.5-mile silver alternative.
It's a chance to experience some of Courier Country's most breathtaking scenery while raising vital funds to support ABF The Soldiers' Charity and The Alliance Trust Foundation.
Now in its sixth year, the event has raised more than £1.8 million for the Soldiers' Charity.
Last year's event saw 600 competitors including 217 serving soldiers and veterans taking on the challenge.
Already, a record-breaking 865 people have signed up for the 2016 event which means even more money being raised.
While funds raised benefit the Soldiers' Charity, the Alliance Trust Foundation donated more than £40,000 to various local community organisations in 2015.
These were nominated by staff and included dress down days, charity awards and other activities.
A spokeswoman for the Alliance Trust Foundation said: "Last year was an incredible year for fundraising with £153,904 going towards supporting ABF The Soldiers' Charity and £76,952 going towards the Alliance Trust Foundation. This truly staggering amount will enable the Foundation to make more meaningful donations to a number of local charitable organisations in 2016."
The Foundation donated £27,000 through its Annual Charity Award in 2015. This was distributed between its six winning charities, as voted for by Alliance Trust employees.
Tayside Children with Cancer and Leukaemia (TCCL) Lodge in St Andrews received £8,000. Chairperson Rosalie Wilkie said: "The donation has been used as part of the Lodge's extensive refurbishment project, buying and installing high quality fittings and fixtures to make families' time here as comfortable as possible. It's thanks to support like this that the local children with cancer and leukaemia can enjoy this fantastic house where so many special memories will be made."
Ocean Youth Trust (OYT) Scotland in Edinburgh received £5,000, PAMIS in Dundee received £5,000, Fife Employment Access Trust (FEAT) got £2,000, Home-Start Dundee got £2,000 and Kids Company in London were given £5,000.
Jenny Miller, the chief executive of PAMIS, said: "The money is being used to provide information, advice and support to families of young children with profound and multiple learning disabilities and to staff working with pre-school children to inform them of the work of PAMIS."
Pam Shaw, fundraising officer of OYT, said the £5,000 was used to support a group of 10 young people and two youth workers on a week-long residential voyage.
"The young people were members of the youth group Rock Solid, a community charity which works with young people in the east end of Dundee," she said. "They encourage young people to become more confident by expressing themselves through a variety of community based activities. Sailing with OYT Scotland helped them become more resilient while working as a team."
And senior co-ordinator of Home-Start Dundee, Alison Kettles, said the £2,000 enabled the organisation to continue to provide group support to families in a safe, stimulating and relaxed environment.
"The donation has been put towards rent for the venue, a variety of healthy food for cooking purposes, healthy snacks for children and parents and a variety of resources. This financial year (April 2015 to March 2016) we have so far supported 39 parents and 48 children."
Along with ABF The Soldiers' Charity, the Alliance Trust Foundation is a beneficiary of the Yomp and directs funding to local community groups, charities and voluntary organisations, nominated and voted for by Alliance Trust staff.
Other charities and good causes supported by the Alliance Trust Foundation include: Unite Against Cancer, Tayside Mountain Rescue, Syrian Refugee Appeal, Cash for Kids Mission Christmas and of course, the Cateran Yomp.
There's still time to sign up for the Yomp and get in a few weeks of training. Registration is £99pp for individuals and £80pp for military or ex-military. Each participant is expected to raise a minimum of £400. This money goes towards helping soldiers, veterans and their families.
Sign up now at www.soldierscharity.org/events/the-cateran-yomp/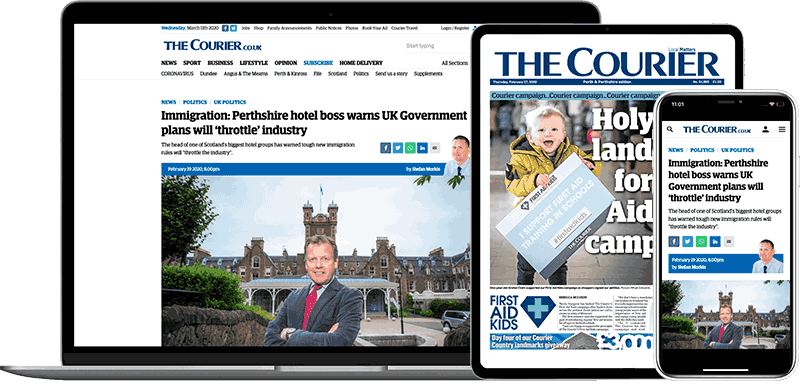 Help support quality local journalism … become a digital subscriber to The Courier
For as little as £5.99 a month you can access all of our content, including Premium articles.
Subscribe