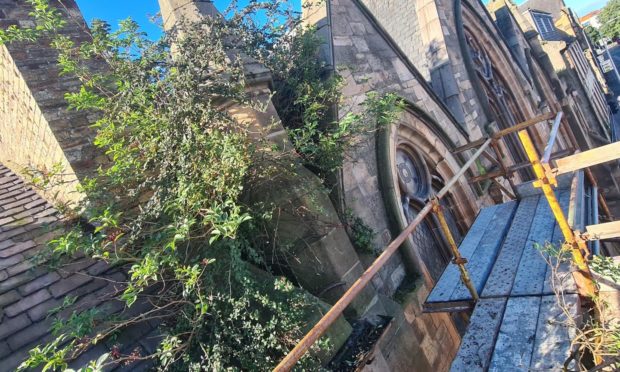 A derelict church in the centre of Perth has been given a much-needed make-over after it was saved from demolition.
Construction crews are removing trees and overgrowing vegetation from the roof of the 130-year-old St Andrew's and St Stephen's Church in Atholl Street.
Workers from local firm Allan Robertson and Son have been carting away a large amount of trees and foliage.
It is the first phase of a £3.5 million plan to transform the C-listed property into a dedicated centre for youth work.
The prominent gothic building was due to be bulldozed to clear the way for a new operations centre and more than 20 flats for YMCA Tayside.
But the group, formerly known as Perth and District YMCA, has now abandoned its plan to raze the church and recently tabled an alternative plan to retain the building, but tear down an unsafe extension at the back. The group wants to create a new headquarters over three floors.
There are also plans to build four flats at an adjacent tenement block on North William Street.
The state of the landmark church has significantly deteriorated since it closed to the public eight years ago.
It was bought by the YMCA in December 2000 to use as a base for youth work called the Y Centre.
Jill McGrath, Chief Executive of YMCA Tayside said: "The YMCA team and I are thrilled to finally see progress being made in the establishment of a dynamic, versatile youth centre in Perth city.
"The building is substantially larger than our current premises and is tailor-made to specifically address the needs of young people, including young people who have been involved in the design from the beginning."
She said: "The central area of the old church will be dedicated to offering vital youth work services.
"We have also made sure we can adapt to meet the needs in the future, incorporating a retail unit, workshop and media-digital suite to enable supported work experience and paid employment."
Ms McGrath said the Y Centre would be a safe space where young people can develop skills, increase confidence and gain qualifications.
"It will be a place where young people will thrive," she said.
The regeneration project is supported by several groups including the Robertson Trust and the Northwood Charitable Trust.
Dave Bremner, chairman of YMCA Tayside, praised support and advice from Perth and Kinross Council. "I hope that when open, the Y Centre will be a fine example of building restoration near the centre of the city," he said. "It is a challenging project sourcing the large quantity of funds required."
He said the scheme was kickstarted with a £10,000 grant from the Architectural Heritage Fund.