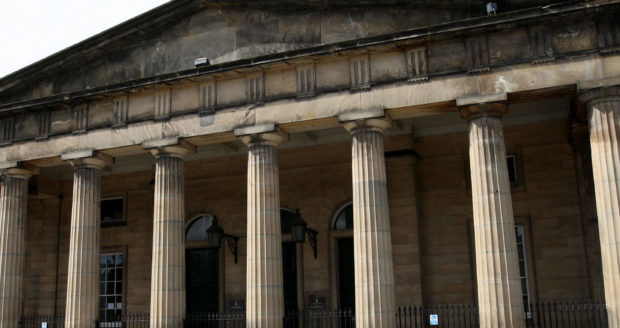 A suspected benefit cheat ran a 10k race to raise funds for a football team after claiming she could barely walk, a trial heard yesterday.
Beverley Dott said she had run 10k on a number of other occasions and had been running 5k several times a week without telling the benefits agency.
Dott told Perth Sheriff Court she had not informed the Department of Work and Pensions that she was able to complete a "Couch to 5k" running plan.
The court was told that she had taken up running while continuing to claim the highest rate of mobility allowance provided by the DWP.
Dott, who also completed two 5k runs dressed as Santa, is alleged to have fraudulently claimed more than £13,000 in benefits over a number of years.
She said: "I did do the Perth 10k which I had to train for, for my son's football team as a fundraiser.
"When I say training, I mean I had to run a bit further.
"I may have done the occasional 10k after that.
"When my fatigue is really bad I can't walk across the room, I can't stand up.
"It can happen any time of the day."
She said she had an operation and afterwards decided to take up running because she felt like she was "a burden" on her family, the NHS and the DWP.
She told the trial she had given up running after discovering she was being investigated and put under surveillance.
Agency investigator Scott Hodge, 50, told the court that on the four days she was secretly filmed she appeared to walk considerable distances at a normal pace and without any discomfort or help.
He said: "Her walking speed and gait were regular and at no time did she appear to have problems with her balance.
"She had no walking aid with her."
Dott told the court she had been diagnosed with MS in 2008 and had been forced to leave her full-time job as a sales rep because of the fatigue and pain she suffered.
DLA assessor John Breen previously told the trial she had been claiming too much money for three years and had been paid more than £13,000 she was not entitled to receive.
Dott, 52, of Abbey Road, Scone, is alleged to have fraudulently claimed £13,213.25 between July 2 2014 and September 12 2017 by failing to notify the DWP of a change in her condition.
She denies the charge.
Summing up for the Crown, fiscal depute Catriona MacQueen said: "We heard that in 2016 she ran a 10k.
"That is indicative of an individual who has effectively turned a blind eye to the requirements upon her."
Solicitor David Holmes, defending, said: "There was no intent to commit any form of false act. This was done in the open, for all to see."
Sheriff Keith O'Mahoney said that he would issue his verdict at a later date.