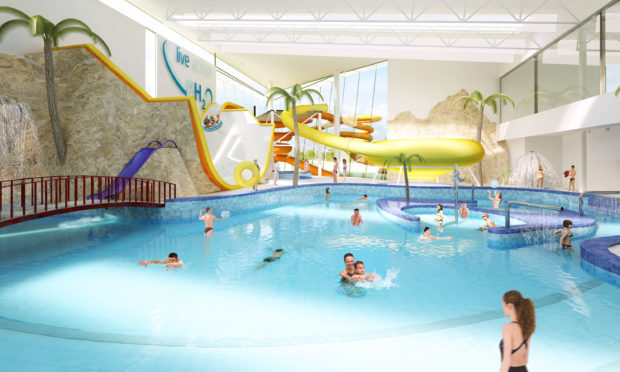 An ambitious swimming pool project, which has been treading water since a major budget blow two years ago, is facing an uncertain future.
Perth and Kinross Council sparked outcry when it slashed financial assistance for the much-heralded PH20 scheme in 2018.
Money for the planned overhaul of the city's leisure facilities was instead diverted towards a £50 million rebuild of Perth High School.
In February last year, the local authority announced a £500,000 partnership with operators Live Active Leisure to press ahead with the plan.
The council cash was earmarked to develop detailed designs and operating models for the new pool and sports complex.
But now the project – valued at £25 million – could become another economic victim of the coronavirus pandemic.
A report to go before councillors on Wednesday outlines the fresh financial difficulties facing the project, with doubts over attempts to secure commercial funding.
The situation could be complicated further by recent flood damage which has put the pool out of action.
In their paper, Head of Finance Stewart MacKenzie and Capital Programme Manager Norman Ballantine state: "It is recognised that the identification of a financial solution for the Perth leisure vision PH20 project remains an outstanding action.
"The severe weather event in August has caused considerable flood damage to Perth Leisure Pool and remediation work is currently ongoing while the facility remains closed."
The report continues: "The council has previously requested the development of a commercial income stream to contribute to the financial ability of the PH20 project."
It states that given the ambitious scale and costs, Live Active Leisure would not be able to fund the project without an extra income source.
"The impact of Covid-19 is likely to make the development of such an option considerably more challenging, at least in the short-term," the report states.
Councillors have been told to expect an updated assessment on the construction and operational costs of the plan before budget talks in 2021.
The pool suffered significant damage after a devastating thunderstorm in August.
A boiler room was swamped with water when about a month's worth of rain fell on the Fair City over 24-hour period.
Council leader Murray Lyle said that there was "no prospect of it opening any time soon."
A council spokesman said: "PH20 is intended to be a sports hub in Perth city centre that will deliver health and recreational benefits for residents as well as economic growth.
"Elected members will be briefed on the anticipated construction and running costs before they decide on the 2021 Capital Budget next year."