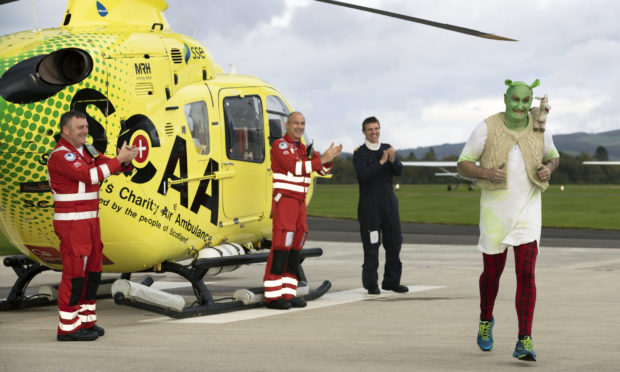 Bosses at a Perthshire charity are "ogre the moon" after receiving a giant donation from a Shrek impersonator who completed a 13km sponsored run at their base.
Helicopter pilot Dave Young faced a monster challenge at the weekend to raise funds for Scotland's Charity Air Ambulance (SCAA).
Despite the Great Scottish Run being cancelled, the chief pilot with the Police Scotland helicopter, based at Glasgow, donned his familiar fundraising guise as cartoon ogre Shrek and ran the equivalent 10km distance round the perimeter of SCAA's Perth Airport base instead.
Dave, from Greenock, has been taking part in the Great Scottish Run for 10 years, raising over £10,000 for Cancer Research.
This year, however, the 52-year-old opted to raise funds for SCAA having flown numerous stand-in shifts on both of the charity's helicopters.
"I've seen for myself just what a brilliant charity this is," he said.
"I was scheduled to fly for SCAA on the day of the run so decided to take to my heels at Perth instead and see if I could put something in their charity coffers."
The green giant's gesture has so far bagged nearly £600 for the charity-funded air ambulance through his dedicated Just Giving page.
SCAA's Helimed 76 crew was there to wave Dave off and 1 hour 29 minutes and 13 kilometres later they welcomed an exhausted Shrek back to the fold as they returned from an emergency call out.
"It was pretty challenging on the rough muddy ground but I just ploughed on," Dave said afterwards.
"SCAA's crews have to go out on their missions in all weather conditions so I can't complain.
"Funding an emergency helicopter air ambulance service on public donations alone is a huge achievement by SCAA and I'm happy to do my bit to support them."
He fears increasingly painful knees could call a halt to his fundraising runs.
"A lifetime of boxing, rugby and running has taken its toll and my knees just won't take many more miles at that pace," he said. "It would be nice to end on a high for SCAA."
John Pritchard, Lead Paramedic at SCAA's Helimed 76 said the crew members were all really proud of Dave's efforts.
"Not only does he fly life-saving missions but he is prepared to push himself physically to fundraise and help save even more lives.
"We get a lot of visitors at SCAA, but never before a giant green cartoon favourite."
Anyone wishing to donate to Dave and his Shrek run can do so at his Just Giving page.