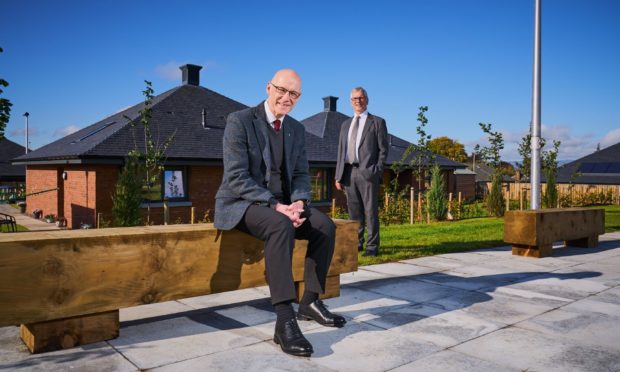 A new £10 million affordable housing development has been opened by a Perth charity.
The 48-home scheme was funded by the Gannochy Trust to recreate the ethos of its founder, A K Bell, and his original Gannochy Housing Estate which was built in the Fair City between 1923 and 1931.
Located off Gannochy Road the estate aims to improve health, accessibility and connectiveness for tenants, with the "flexibility to adapt to their needs" as circumstances change.
The development took two years to build and will provide accommodation for families, single people and people who require additional support to live on their own home.
The trust says the houses have been built with three core principles in mind – healthy homes for life, lifetime neighbourhoods and high quality design.
David Gray, chairman of the Gannochy Trust said: "The trust are proud to launch 48 new affordable homes in Perth that provide a healthy, communal environment for our tenants.
"The new development builds upon A K Bell's forward-thinking vision to create healthy, affordable homes for the local community.
"A range of communal areas have also been incorporated into the development to encourage community engagement and interaction.
"The development's  'lifetime neighbourhoods' principle encourages the growth of strong, lasting communities, as well as improving accessibility for people with special needs, including dementia."
The scheme has also incorporated a 'sitooteries' design to encourage residents to go outside in a safe, controlled area.
The new development was opened by Depute First Minister John Swinney who welcomed the collaberation between the trust, the Mackintosh Environmental Architecture Research Unit at Glasgow School of Art and the Construction Scotland Innovation Centre.
The SNP MSP said: "The Gannochy Trust housing expansion has added much needed high-quality affordable homes for the people of Perthshire.
"The project demonstrates how the support of the Construction Scotland Innovation Centre can link creative research from the Glasgow School of Art to tackle construction industry challenges in designing healthy homes for Scotland."