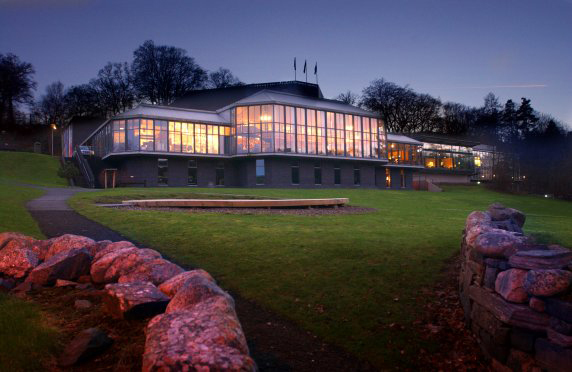 A unique Perthshire theatrical institution which challenges the memories of actors by presenting different plays on different days is gearing up for the summer season.
The model at Pitlochry Festival Theatre was developed with the visitor to the town very much in mind, allowing them to take in multiple performances during their stay.
Despite the challenges the "theatre in the hills" manages to receive critical acclaim year after year.
This year the 18-strong ensemble have an added challenge – for the first time since 1966, audiences will be able to see seven shows instead of six.
The 2016 season opens on Friday  May 27 with the first performance of Carousel, Rodgers & Hammerstein's musical testament to the enduring power of love.
Hot on its heels, the theatre is staging Clive Francis` new version of the classic haunted house farce, Thark. Perth-based director Ken Alexander is at the helm of the fast-paced comedy, which opens on Thursday June 2.
Fresh from the Olivier award-winning, West End hit The Play That Goes Wrong, designer Nigel Hook has created the set and costumes for this Scottish première production.
Alan Ayckbourn's Damsels In Distress trilogy – GamePlan, RolePlay and Flatspin – are three entirely separate, stand-alone comedies, featuring completely different stories and characters.
Uniquely, however, all three share the same seven actors – and the same set and on two special Trilogy Days visitors can see all three plays in a single day. Directed by Richard Baron, with sets and costumes designed by Ken Harrison, GamePlan, RolePlay and Flatspin open on June 9, 16 and 23 respectively.
Next to open, on Thursday July 28 is Noël Coward`s funny and moving drama, This Happy Breed.  The play charts the lives and loves of a lower-middle-class family during the turbulent years between the two World Wars and provides a rare chance to see the cast age 20 years before your eyes.
Lastly director Clare Prenton and designer Becky Minto have joined forces to present Stephen Jeffreys' adaptation of the Dickens classic, Hard Times which opens on September 1.
This moving and uplifting story of betrayal and redemption involves a cast of just eight portray 30 different characters on the stage.