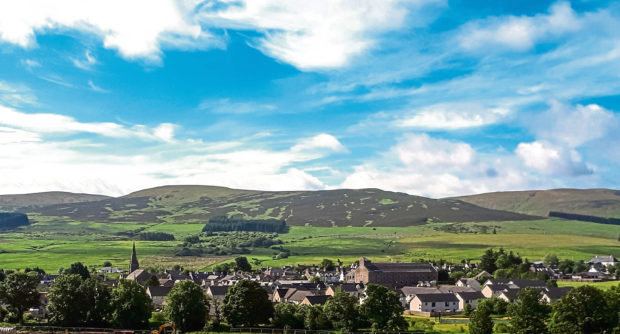 An area in Perthshire has been hit by another set of earthquakes – its 14th in less than two months.
The latest tremor at Blackford on Monday followed three others at the weekend – two on Sunday, and the other on Saturday.
All measured less than 1.0 magnitude, but one was felt by a single resident in Blackford who described it as a "weak tremble".
Leading seismologist explains Perthshire earthquakes that have seen village struck seven times in a month
Earthquakes can come in clusters. An earthquake swarm is a sequence of seismic events occurring in a local area within a relatively short period of time.
A 1.0 magnitude quake was also recorded in the area by the British Geological Survey at 11 minutes before midnight last Tuesday.
The epicentre was close to Gleneagles Village.
The previous Saturday people complained of feeling two tremors within five minutes of each other.
The first was at 7.23am with the epicentre again near Gleneagles and measured 1.5 magnitude. Five minutes later a 1.8 magnitude quake was registered a few miles away – with both tremors being felt by residents in Blackford
There were also two quakes in the area on October 4 – including a 2.5 magnitude tremor which was recorded by the BGS close to Blackford.
It was felt by several residents in Blackford, Auchterarder, Braco, Aberuthven, Gleneagles and Glendevon.
Reports then described, "windows rattled", "sounded like some sort of explosion", "heard a loud bang", "we felt a thud, like it was coming from under the house" and "felt like someone falling upstairs", said the BGS.
There were also earthquakes in the area on September 28, September 14 and two the previous day
On September 2 a 1.3 magnitude quake was felt by several residents who reported "a weak to moderate shaking".
Earlier this month, British Geological Survey seismologist Glen Ford said the tremors were not cause for concern.
He said: "Although the UK is quite a distance from the nearest plate boundaries, crustal stresses do build up with the tectonic plates and these are relieved by small earthquakes occurring on old pre-existing fault planes.
"Basically just a little more stress is released making them large enough to be felt."
'Car crash' strikes Perthshire as residents experience fifth earthquake in a month