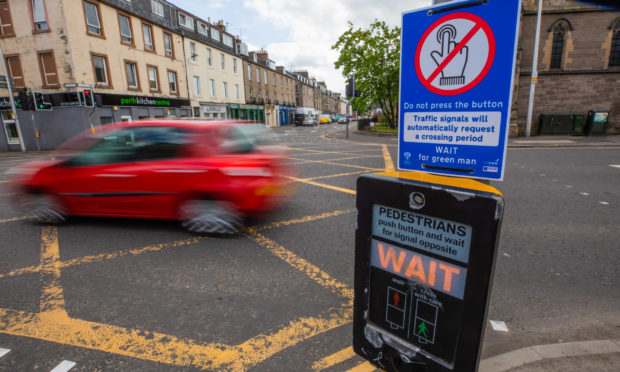 Dozens of people have signed a petition to save touch-free traffic lights in Perth and Kinross.
The controversial automated system was introduced by council chiefs earlier this year in an effort to halt the spread of Covid-19.
But the initiative – the first of its kind in Scotland – was officially axed earlier this month after complaints that the self-activating red lights caused unnecessary hold-ups and congestion.
Perth and Kinross Council to remove touch-free pedestrian crossings after just four months
The move was broadly welcomed by commuters and even by councillors who had initially praised the scheme.
Perth and Kinross Council now faces growing calls to keep the automated signals in place and carry out a wider public consultation before any decision is taken on their future.
Around 100 people have signed the online petition, set up by local man Richard McKay.
He believes the touch-free devices are "even more important as the number of virus cases escalates" and has urged anyone who has benefited from the system to add their signature.
"Letters to the local press reported the advantages of the hands-free system for families and individuals in reducing the risk of catching Covid, and having repeatedly to sanitise their hands after pressing the button at traffic lights," he said.
"Importantly, other groups such as the disabled also benefited: Blind and partially sighted people no longer had to find the button before pushing it, and those in wheelchairs no longer had to manoeuvre into place to reach the button."
Mr McKay added: "Although there were teething problems with the hands-free system, these were quickly identified and being addressed.
"The solution to dealing with these problems is to improve the system for all, and not dispense with it completely."
Council crews are in the process of re-calibrating all traffic lights across the region, and removing 'Do Not Touch' notices.
The work is expected to take about four weeks.
'Do not press the button': Coronavirus leads to new hands-free pedestrian crossings across Perth and Kinross
Thousands of pounds worth of Sustrans funding went into designing, producing and installing the hands-free signs. They will be replaced by new notices urging pedestrians to observe the Scottish Government's FACTS guidelines.
It was the latest Perth and Kinross Council safety scheme to be reversed or postponed in recent weeks.
Last month, the authority agreed to shift wooden street furniture from High Street after complaints it had led to a significant drop in trade for local shops.
And plans to ban traffic outside a dozen schools were paused after complaints that parents had not been consulted.
Touch-free traffic lights face review amid claims they are causing traffic congestion