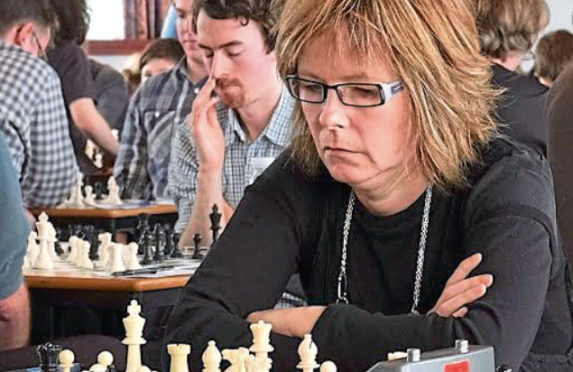 An international chess player who drove through roadworks at twice the speed limit was unaware she was being pursued by police for more than a mile.
Joy Durno, 55, said her "mind was elsewhere" as she accelerated to 90mph with the police patrol car on her tail.
But the Scottish international player escaped a driving ban yesterday after telling a sheriff she had been distracted by her marriage difficulties.
Durno, who represented Scotland at the 2010 and 2016 Women's Olympiads, had originally been charged with dangerous driving on March 16 this year.
However, the Crown accepted a reduced charge of careless driving and going at excessive speed for the road conditions on the A90 Dundee to Perth road.
Fiscal depute Michael Sweeney told Perth Sheriff Court: "Two police officers were on mobile patrol at 3.30pm when the accused's vehicle came to their attention.
"It was travelling through roadworks at 60mph while the speed limit was reduced to 30mph. Police followed her for around a mile.
"At that point the speed limit changes back to 70mph. The speed of the accused's vehicle increases to 90mph for over a distance of half a mile."
Solicitor Jamie Baxter, defending, said: "There have been difficulties in her marriage due to her husband's alcoholism. They have a house in Aberdeen but also have a property in Edinburgh.
"As a consequence of the difficulties in her marriage she has been spending a lot of time at the property in Edinburgh. She is an active partner in the running of their farm.
"She was driving back and had other thoughts in her mind. She is very remorseful and ashamed."
Mr Baxter said Durno, from Edinburgh, had now changed her car and had a speed limiter device which she hoped would help to keep her within the limits.
Sheriff Derek Reekie told Durno, who wept in the dock: "I can see this is causing you considerable distress. This was a dangerous driving charge originally but is now careless.
"I am prepared not to disqualify you. I am encouraged to hear you have taken the very sensible step of fitting cruise control.
"Clearly your mind was elsewhere and you were distracted. Matters were made worse by you continuing to drive at 90mph in a 70 zone and you were not aware of the police."
He imposed seven penalty points and fined Durno £400.