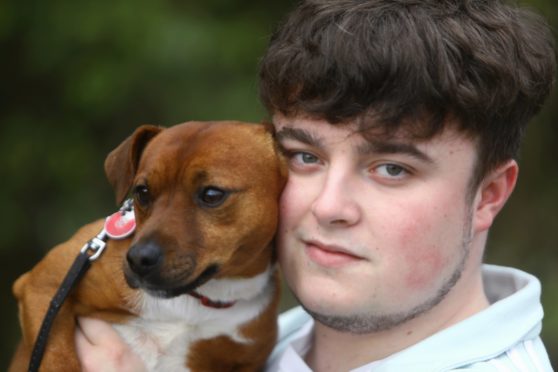 A third dog stolen from outside his home in rural Perthshire has been reunited with his owner.
Jack Russell Terrier Harvey was snatched from his kennel last week, while horrified owner Ally McLaren looked on.
The two-year-old was found roaming around a rural English village, more than 400 miles from home.
REUNITED: Two stolen dogs are back home with their family in Perthshire
He was caught after a weekend-long search by concerned animal lovers in the Worcestershire area.
Harvey was brought back to his family home in Meikleour, near Blairgowrie, in the early hours of Monday morning – nearly a week after he was taken.
Ally said: "It's such a relief. We're just over the moon."
He said Harvey seemed in good condition, despite spending several days fending for himself in a strange area.
"He's a bit skinny. You can see that he hasn't been properly fed.
"But other than that, he seems okay. There are no injuries or anything like that and hopefully he'll be able to put the weight back on in just a few days."
Ally said he was encouraged by sightings of Harvey in the village of Dodford over the weekend.
"He had been spotted going back and forth to a barn. He was getting food  there, so he was going back there every time he was getting hungry.
"But whenever someone went near to grab him, he just scattered away.
"So they came up with a plan to put a basic fox trap inside the barn, with food inside.
"When he came back in on Sunday afternoon, he walked into the trap and got caught."
Ally's mother and brother arranged to pick up Harvey from a half-way point at Gretna, and brought him back home at around 1.30am.
Harvey was one of four dogs taken from the Blairgowrie area on the same day.
We told on Monday how Gamekeeper Craig Brown was reunited with his missing Jack Russells after they were taken from outside his home in Forneth.
One of the dogs was found in a park in the Bromsgrove area less than 24 hours after he was taken. The second dog was traced at a park about 11 miles away.
A Springer Spaniel, which was also taken from Mr Brown's home, is still missing.
The thefts sparked a major police investigation, and a UK-wide search coordinated by – amongst others – the Missing Pets, Perth and Kinross group.
A 38-year-old man was arrested by police investigating the thefts, but he was liberated by the procurator fiscal without appearing in court.
The Crown Office said he was released pending further enquiries.