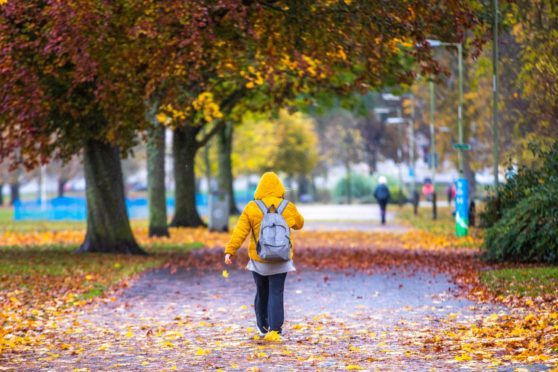 More landmarks will be illuminated as part of Perth's ambitious bid to become Scotland's "City of Light".
A hitherto darkened corner of the popular North Inch park is being lit up in an effort to make the area more welcoming and safer at night.
Park monuments, including a memorial to Prince Albert, will be bathed in colourful spotlights, similar to those installed at nearby Perth Bridge.
Perth and Kinross Council announced its multi-million-pound City of Light campaign in 2016.
It has since signed an agreement with Lancaster-based firm LITE Ltd, the design team behind dazzling illuminations at Edinburgh Castle and Blackpool.
Buildings along Tay Street, including St Matthew's Church and the council headquarters, were among the first to be transformed.
Focus has now turned to the North Inch, including parts of the park which have little or no lighting.
A local authority spokeswoman said: "As part of our planned approach to lighting in the city, we are installing a section of lighting which will connect the North Inch to Tay Street, aimed at improving safety in the park at night.
"Recently, there has been an increase in the use of our outdoor spaces and parks, making it important to complete this section of lighting. It will enable the public to use more of the park for longer periods."
She said the work is expected to take between three and four weeks to complete.
"The park will be open as usual over this period and access to pedestrians will maintained during the installation," she said.
"The main lighting will be a warm white in keeping with the existing lighting in the park. There will also be additional warm white architectural lighting for the Black Watch and 51st Highland memorials as well as the Great Thistle sculpture and Albert statue.
"This lighting will change on key dates to highlight particular campaigns in the appropriate colour, as we already do for the old Perth bridge."
The Prince Albert statue was unveiled by Queen Victoria in 1864, three years after her husband's death.
It depicts Albert wearing the robes of the Order of the Thistle and holding the plans of the Crystal Palace in London, regarded as one of his greatest achievements.
The Queen and Prince Albert had an overnight stop at the nearby Royal George Hotel in September 1848.