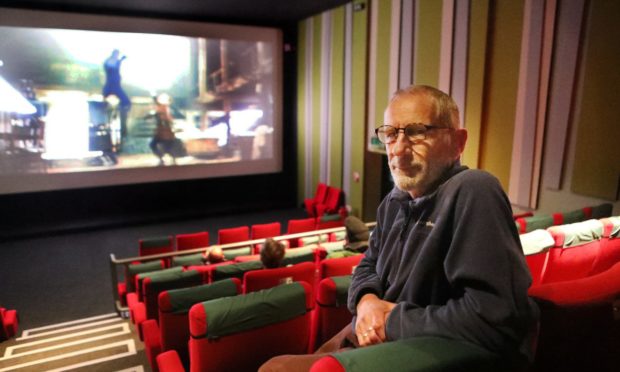 A community-run cinema in Highland Perthshire could become the first in Scotland to offer its own home streaming service.
The Birks Cinema in Aberfeldy, which has been battling to stay afloat throughout lockdown, plans to launch a Netflix-style channel to allow customers to watch releases in the comfort of their own living room.
It would be a first for the country, modelled on a successful scheme launched in New Zealand.
The Birks is one of six independent picture houses in Tayside and Fife to secure more than £600,000 of emergency aid from the Scottish Government.
Perth Playhouse, The Kino in Glenrothes, St Andrew's New Picture House, Universal Sounds (Arbroath) and the Dundee Contemporary Arts (DCA) centre have all won lifeline support from the Independent Cinema Recovery and Resilience Fund and the National Lottery. The windfall, totalling £3.55 million nationally, was distributed by Screen Scotland.
Birks board member Anna Brocklehurst said the £68,000 pay-out will help the cinema "come back fighting" after a five month closure.
"It's a tough time," she said. "Apparently we are one of just 11 cinemas open across the whole of the UK today."
Ms Brocklehurst said: "In these times, it is no longer possible to operate just as a cinema. It is all about innovation and diversification.
"We are really excited to announce the imminent launch of our Birks Streaming service. It is a way for film lovers to support their favourite cinema with a professionally curated programme of films that you would not otherwise have the chance to see."
She said it will be like a second screen at the Birks, offering a hand-picked selection of classic and modern titles, as well as some new releases.
Radio listener asks for forgiveness after "ultimate code violation" at Perthshire cinema
"Through this, we hope to entertain those who cannot so easily come visit us in person, or who would feel uncomfortable.
"Streaming will reflect the values of cinema and its programming, offering independent films, classics, documentaries and even festivals to watch at home."
The service will be launched in the coming weeks, with a re-fit of the cinema cafe, live performances and other events also planned.
The Birks recently held a successful drive-in movie weekend, showing classic films including The Joker, Braveheart, Back to the Future and Grease.
Perth Playhouse, home to the only independent IMAX screen in Scotland, was celebrating its Screen Scotland award of £128,622. Spokesman Mike Wiles said: "More than ever, it is vital that we continue to play our part as a cultural hub for the city of Perth and the surrounding area."
It is a second boost for the city centre picture house this week, after it was named the first "cinema of the week" on Simon Mayo and Mark Kermode's popular BBC Five Live review programme.
Perth Playhouse was nominated by a listener who told how he and his partner had attended for a screening of Tom Hanks movie Saving Mr Banks, only to be told they had turned up on the wrong day.
Instead of sending them away, staff decided to give the couple their own personal screening of the film.
Announcing the emergency funding, Cabinet Secretary for Culture Fiona Hyslop said: "Culture is vitally important to all of our lives, and we are determined to do everything within our powers to see the sector through this crisis."