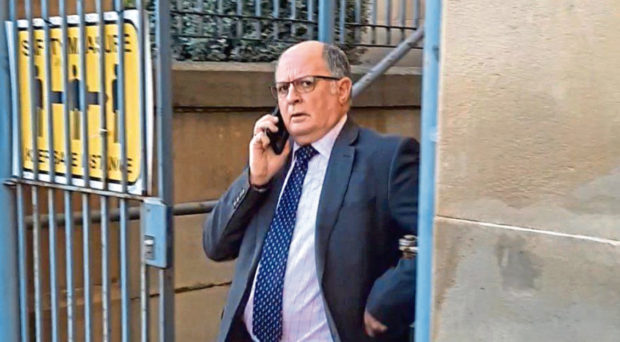 An accountant and a company director who hatched a scheme to use fake invoices to claim VAT refunds conned the taxman out of more than £45,000.
Director David Paterson, 56, has been remanded and told that a prison sentence is inevitable.
His accountant, Kevin Sinclair, 67, was granted bail after Dundee Sheriff Court was told he was a first offender.
Both men admitted plotting to create two business fronts which they used to dupe HM Revenue and Customs into repaying VAT of £27,736 and £17,656.
The court was told Sinclair falsified invoices from genuine companies to claim cash to which Paterson's "companies" were not entitled.
Paterson has previously been convicted of fraud in 2008 and twice in 2011 and has been locked up for two of those offences.
Depute fiscal Charmaine Gilmartin told the court Paterson set up Corriedale Contracts as a property management company in 2013 and it was dissolved in April 2015.
Four VAT returns were submitted by Sinclair and generated more than £27,000 in returns payments by HMRC, which subsequently launched an investigation.
Companies which had supposedly done business with Corriedale were quizzed and it emerged all 15 invoices had been falsified by the duo.
A halal meat company, which had been a client of Sinclair's Glasgow-based firm GD Accounting, discovered their invoices had been doctored as part of the false claim.
Checks were made on Paterson's business bank account and it was found his company did not appear to be doing any actual trade which earned an income.
The second firm, HWD Contracts, was set up in August 2014 and dissolved in March 2016.
Fake invoices from the same companies were submitted to falsely claim more than £17,000.
When the pair's homes were raided, officers found copies of numerous fake invoices and phones with incriminating messages between them.
Paterson, of Perth Road, Scone, and Sinclair, of Waterloo Street, Glasgow, admitted falsifying invoices for Paterson's company Corriedale Contracts Ltd to fraudulently claim £27,736 between October 25 2013 and December 4 2014.
They also admitted carrying out a similar offence for £17,656 at Riverside, Newbridge, between October 1 2014 and July 7 2015.