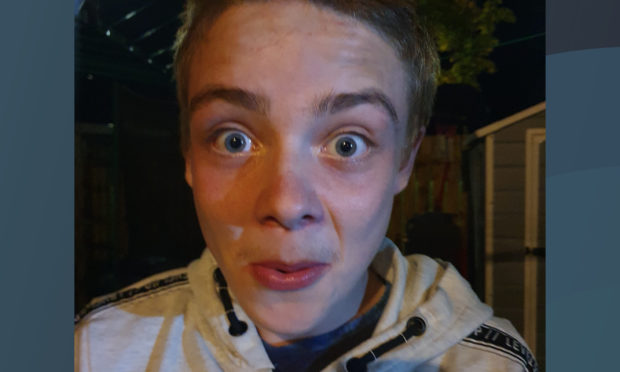 A Perthshire teenager who was put in intensive care after a serious bike accident is now breathing on his own, his family said.
Keiran Lamond was left fighting for his life after he came off his bike while not wearing a helmet last month.
A passer-by witnessed the crash, gave him CPR and phoned for an ambulance.
The 14-year-old, from Blairgowrie, began showing signs of recovery a week after the accident and progress is continuing.
Keiran has now been taken off his ventilator, and has tried to open both eyes.
Meanwhile, he is getting physiotherapy to help him move his arms and legs.
Doctors at Ninewells Hospital are considering moving him out of ICU and into the high dependency children's unit.
Sara Airoud, a close family friend and neighbour, believes this is a positive step as the intensive care unit continues to fill with people affected by Covid-19.
"This is good news as ICU is packed full of patients, whereas the children's unit is empty", she said.
"Keiran will get more personal care his own room, but more importantly he will be away from risk of infection.
"He is still not out of the woods as he isn't waking up yet but it's all going in the right direction."
Following his accident, Keiran's family appealed to cyclists to take safety precautions – such as wearing helmets – after they were initially told to "prepare for the worst".
The family believes Keiran's injuries may not have been so severe if he was wearing a helmet on the day of his accident.
Sara previously told The Courier: "Keiran was not wearing a helmet on the night of his accident – if he was his injuries may not have been life threatening.
"If we can get the message through to just one person then we can rest easy."
Meanwhile, a fundraiser was set up to help Keiran's parents, Nicola and Greig, with transport costs between their home and the hospital, and other necessities.
An initial fundraising target of £500 was set but donors have exceeded it, with the amount currently sitting at over £1,000.
Donations to the fundraiser – set up by friends of the family – can be made on the JustGiving page.