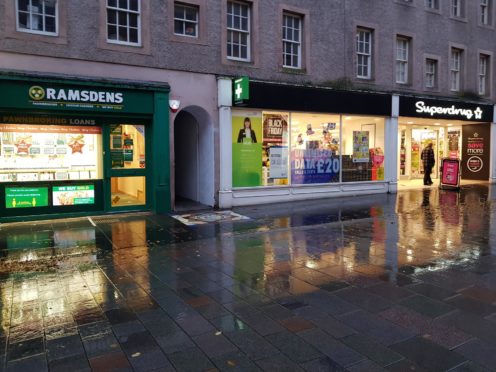 Police are investigating an alleged rape in the centre of Perth.
A team of uniformed and detective officers are quizzing residents and businesses after a 25-year-old woman reported an attack just off the High Street.
The incident happened in an alley between Ramsden's and Superdrug at around 3am on Sunday.
Detective Inspector Marc Lorente of Police Scotland's Divisional Rape Investigation Unit said: ''We have a number of officers dedicated to this inquiry and I would urge anyone who might be able to identify the man responsible or anyone who saw someone matching that description in the area, to get in touch with Police Scotland."
The culprit was around 5ft 8in, with a tanned complexion and spoke with a foreign accent.
Police have been going door to door and examining CCTV as part of the investigation.
An employee at the nearby Monterey Jack's restaurant said: "We don't know anything about what happened, but we have seen police going about in the area."
News of the attack emerged after Chief Inspector Graham Binnie told Perth and Kinross councillors the number of serious assaults in the region had increased by a third.
Between April and September, 43 people were the victims of serious attacks in the area – 34% more than in the same months last year.
Mr Binnie said police were still trying to work out why there was a peak in violence around late July and early August but the incidents appeared to have "levelled out since then".
The local area commander also revealed the number of rapes reported had dropped by a quarter and the number of indecent assaults had dropped by a smaller margin. However, detection rates for both categories also fell by 32% and 27% respectively.
Mr Binnie said this reduction was due to the number of historic incidents among the new cases being brought forward.
Anyone with information on Sunday's incident should contact police on 101 or speak to any police officer quoting reference number 0590 of November 8.
Information can be given anonymously by contacting Crimestoppers on 0800 555 111.
1
For as little as £5.99 a month you can access all of our content, including Premium articles.
Subscribe