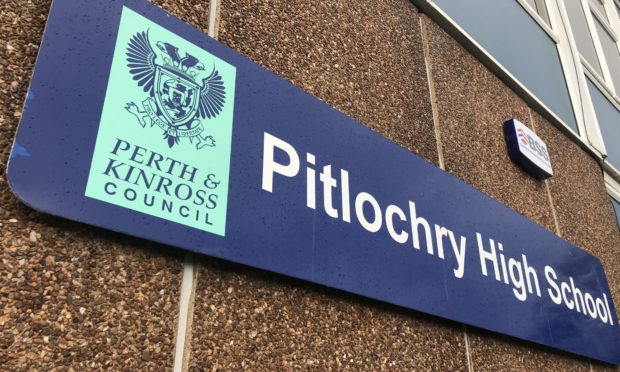 An anxious mum who has been teaching her children at home since August said she felt "pressured" to send them back to class after being told they could be struck off the school register.
Marigold Massie was informed her daughters would have to be officially homeschooled unless she put them back for at least a short time each week – despite her concerns it would put their physical and mental health at risk.
After the summer break, Mrs Massie told Pitlochry High School she would keep Maia, 13, and Ayden, 11, at home, because of a history of lung issues in the family.
The children were taught via distance learning, with regular contact with their teachers.
But after a few weeks, Mrs Massie was told by school staff that she was required to put her children back to lessons or face having them de-registered.
Mrs Massie – who works at home as a self-employed genealogist – said she reluctantly accepted a new plan, with Maia and Ayden now attending two mornings a week.
She said home lessons had been going well, using work provided by the school. The children also took part in regular online chats with teachers, who asked them how they felt about coming back to school.
"Both were apprehensive and unwilling to attend," said Mrs Massie. "And both were happy to learn at home where they feel safe and secure."
She said: "As we neared the October holidays, the school told me that I would have to start sending them into school at least some of the time, otherwise we would be forced to remove them from the school system entirely. They would be officially homeschooled.
"This was definitely not something I wanted to do, and I feel that it is very unfair that we have therefore been forced to send both our children into school for some mornings.
"That has not only put their physical health at risk – especially my older daughter – but has also resulted in both being stressed and upset at being forced to do something that they are not comfortable with, which is also putting their mental health at risk."
Mrs Massie has urged Perth and Kinross Council to clarify its policy on distance learning, amid concerns that the information from staff at the school may have been given in error.
It comes amid growing concern for a rise in cases at Perth and Kinross schools, with more than 400 pupils currently in isolation and a new positive case at Blairgowrie High School confirmed this weekend.
A council spokesman said robust risk assessments had been taken to ensure schools were as safe as they can be.
"Where individual circumstances mean a pupil should not attend school full-time, we will work with parents to try find a balance that maximises attendance and continues to build towards the pupil's full attendance in time," he said.
"This includes taking steps to ensure children feel supported and comfortable in school, such as being allowed to move between classes when corridors are quieter and holding weekly reviews to address any concerns."
The spokesman added: "Perth and Kinross Council delivers education in accordance with current legislation and Covid-19 guidance. Whilst Perth and Kinross was in protection levels 0-2, pupils with the highest clinical risk were advised to continue to attend school.
"As Perth and Kinross has now moved into Protection level 3, it is advised by the Scottish Government that children and young people in this category should discuss with a GP or clinician if they should attend school. Our aim will always be to provide as much classroom teaching time, as is safely possible, for all of our children and young people."
1
For as little as £5.99 a month you can access all of our content, including Premium articles.
Subscribe