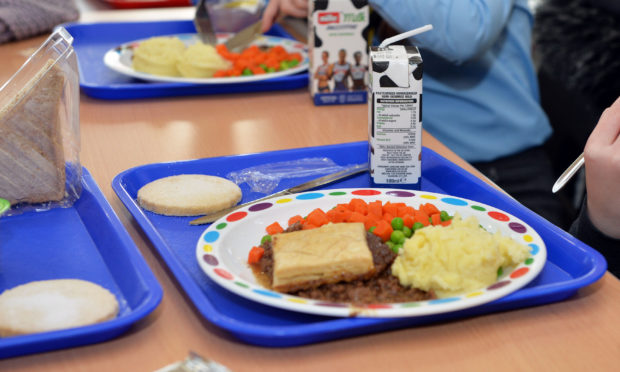 The number of children having free school meals has fallen by 19% across Tayside, leading to fears some are going hungry and not eating lunch at all.
The drop over the past year was revealed as it also emerged that more than half of school meals being prepared by Tayside Contracts are going uneaten.
The poor uptake was highlighted in a report presented to a joint committee of Perth and Kinross, Angus and Dundee City councillors.
Fife families 'wasting' at least £400 a year by not taking up free school meals
Keith McNamara, managing director of Tayside Contracts, said in his report: "The reduction in free meals is of particular concern given that this means either that families who can ill afford to do so are paying for meals for their children from elsewhere, or more concerningly, that these pupils are not eating lunch at all."
Highland Perthshire councillor Mike Williamson, who sits on the joint committee, said more work needs to be done to remove the stigma surrounding the benefit.
Mr Williamson said: "It's quite staggering. I know there's work getting done to try and address the problem.
"The stigma around it needs to be removed.
"It's concerning that children who are entitled to this aren't taking up that option."
The SNP councillor said welfare advice teams were contactable across all three council areas for those who needed them.
Mr Williamson added: "Given the high rise in people that have recently become unemployed the figures should not be dropping."
Tayside Contracts also revealed that only 43% of school meals budgeted for the second quarter of the school year had been consumed across the three local authorities.
Mr McNamara believes the limited options of meals available for children during the Covid-19 pandemic may account for the low number.
Plan to serve Perthshire pupils frozen meals made in Dundee booted out by councillors
He said: "Unfortunately, meal uptake has not returned to anywhere near the numbers we would normally expect to see or had anticipated in our 2020/21 budget.
"There is no single reason why meal numbers have fallen dramatically.
"(It's) most likely a combination of higher than anticipated pupil absence rates, only cold packed lunches being available until now, lack of variety in the Covid-19 cold menu (and) parents regarding their own packed lunches as safer or more appetising than the cold bagged meal option."
He also suggested an increase in thennumber of pupils leaving school grounds during lunch hours could account for some of the drop in numbers.
The launch of a new hot meal packed lunch menu after the October break has resulted in an increase in interest from pupils compared to the cold menu, he added, but demand is still below target.
Mr McNamara said: "Although these increases are welcome, this level of meal uptake remains well below what we would expect in a normal year, and this will impact on our budget."
1
For as little as £5.99 a month you can access all of our content, including Premium articles.
Subscribe