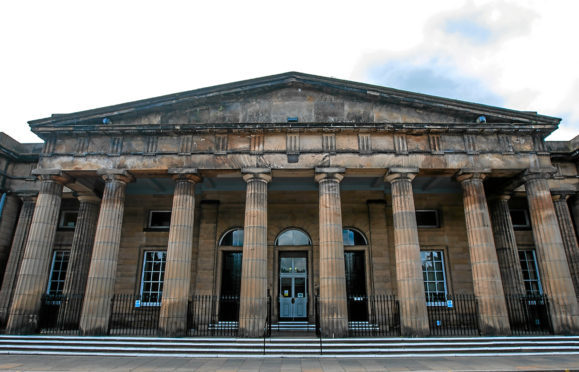 A driver overturned his car in an early morning crash after consuming a "cocktail" of drugs.
Mark Townsley was witnessed driving at just 5mph on Auchterarder's High Street before suddenly accelerating and crashing into a parked car.
The collision left the 28-year-old's new Vauxhall Mokka lying on its side.
Perth Sheriff Court heard that Townsley was taking a number of prescription drugs but had two additional substances in his system at the time of the crash.
Fiscal depute Lisa Marshall told the court: "At 3.10am the accused was driving his Vauxhall Mokka south on the High Street in Auchterarder.
"He was seen to be driving excessively slow, at about 5mph. He then sped up to between 30 or 40mph and hit a parked car. This caused the accused's car to roll and it came to a rest on its side.
"Another driver stopped and provided assistance to the accused and called emergency services.
"The police were on scene in five minutes and the accused confirmed that he was the driver of the car.
"He was required to give a roadside breath test, which was negative but police formed the opinion that he was impaired due to his wide pupils, slow speech and foaming spittle at the side of his mouth and he was arrested."
Townsley was taken to Perth Royal Infirmary due to an elbow injury, and a urine test revealed he had a number of substances in his system.
Solicitor Paul Ralph, representing Townsley, said: "As a result of a serious injury some years ago he's prescribed a cocktail of drugs by his GP.
"He accepts that there are at least two substances in the analysis that should not be there."
Townsley, of Primrose Crescent, Perth, admitted driving the 15-plate car on Auchterarder High Street on August 28 last year while unfit to do so due to drink or drugs.
Sheriff Simon Collins told Townsley that he had escaped a custodial sentence "by the skin of his teeth".
He said: "You are fortunate not to be going to prison."
He fined Townsley £400 and banned him from the roads for three years.