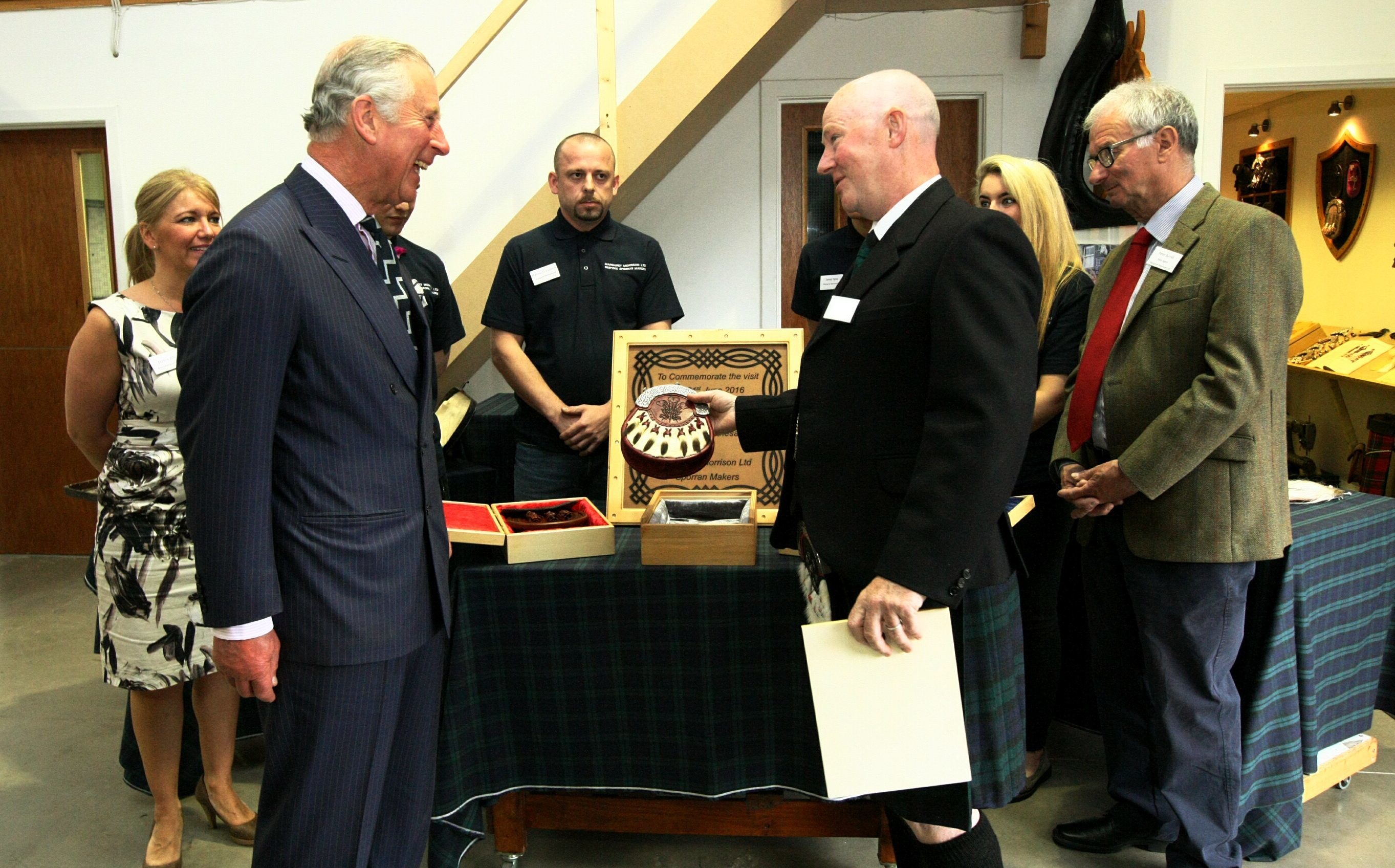 Prince Charles will have a choice of Highland attire for his next Scottish visit after being presented with three sporrans by a Perth firm.
Greg Whyte, of Margaret Morrison Ltd, gifted the handmade pieces to His Royal Highness to mark his visit to their manufacturing site at the Inveralmond industrial estate.
The first sporran was made of dyed leather, the second made from sealskin and featuring a thistle design on the flap and a third trimmed with ermine and bearing the heraldic badge of the Prince of Wales – three white ostrich feathers emerging from a gold coronet.
Greg said: "It's been a great day – to have someone of that stature take an interest in our business is wonderful. We are a very small family-run manufacture ring business and for someone at that level to take a genuine interest in what we do is a fantastic feather in our cap.
"Prince Charles is very easy to talk to – he's very good at putting people at their ease.
"He was asking how the product is manufactured, where we get our supplies from and he was very interested in the training that we have for staff.
"We've presented Prince Charles with three different sporrans – a daywear, a very formal or traditional style and a bespoke one made of ermine. He's happily accepted all three."
Among those working for the firm are brother and sister Kimberley and Liam Neil, and their cousin James Yates.
Kimberley said Greg had caused the Prince to laugh out loud as joked that he gets cheap labour by employing family.
Kimberley, Liam and James, along with colleague Mariusz Turzyniecki, showed His Royal Highness the various stages of sporran production, including where they cut the leather and hand emboss it.
Mariusz demonstrated the firm's laser etching machine by burning an intricate thistle design into a square of leather.
At the end of the tour members of staff from neighbouring Whisky Auctioneers took the opportunity to present Prince Charles with a bottle of Laphroaig.