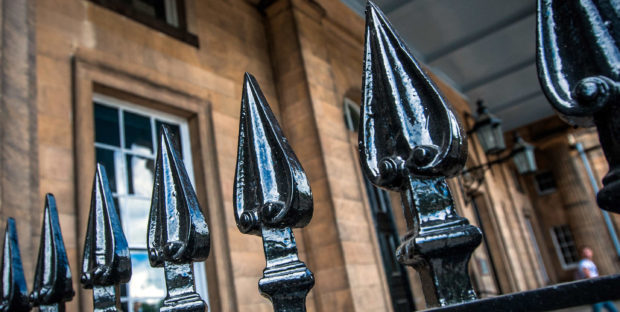 A Falkirk man who tried to blackmail a former Perth and Kinross councillor after discovering the man's wife was working as an escort has been jailed.
Alan Hurran said his motive for demanding £4,000 and sexual favours was to expose "pillar of the community" Keith Robertson, a veteran SNP man.
Mr Robertson's wife, Jean, had a profile on adultwork.com and Hurran estimated £4,000 to be her weekly earnings.
Fiscal depute Rebecca Kynaston said: "Jean Robertson is an escort with the website adultwork.com.
"On November 21 2015 she and her husband received an envelope in the post. Within was a letter containing details of activities which Jean Robertson took part in. It included various pictures of her in a state of undress.
"It threatened to expose their lifestyle to friends, family and neighbours unless £4,000 was paid. There was also a demand for Jean Robertson to engage in sexual activity with whoever sent the letter."
Mrs Kynaston said that further letters of a similar nature had been received on November 22 and 23.
On November 30 it was discovered that Hurran was behind the letters and police attended at his home. They removed computers and phones from Hurran's home, as well as a USB stick he had handed to them.
Mrs Kynaston continued: "The accused stated that he had sent the letters to teach Keith Robertson a lesson as he was pretending to be a pillar of the community.
"He said he intended to take the money but did not intend to follow through with the demands for sexual activity with the complainer."
Billy Somerville, Hurran's solicitor, said he had been forced to close his business after police took away his computer.
He said: "This doesn't seem to be the normal type of extortion because the intention was to expose the way someone was living and he thought that was not appropriate because the complainer was portraying himself as a pillar of the community.
"He's lost significantly due to this but he's the author of his own misfortune. Because police took all of his computers his records of all of his business contacts and details were on them and he could not continue and was required to close the business.
"There's no prospect of him starting a new business as most of his contacts are in the Middle East and a conviction of this sort would not allow him to go there."
Hurren had previously admitted making the threats from addresses in Auchterarder and Falkirk, on various occasions between November 21 and December 1 last year.
He pled guilty to menacing the couple and putting them in a state of fear and alarm and apprehension that he would expose their lifestyle to their friends, family and others, for the purposes of extorting money.
The charge added that if the couple did not pay the money and the woman have sex with him then Hurren, Jenkinson Drive, Redding, Falkirk, was going to expose her lifestyle.
In jailing Hurran for 12 months, Sheriff William Wood said: "The offence is so reprehensible that it can only be dealt with by a custodial sentence.
"Your course of conduct must have caused considerable distress to Mr and Mrs Robertson."