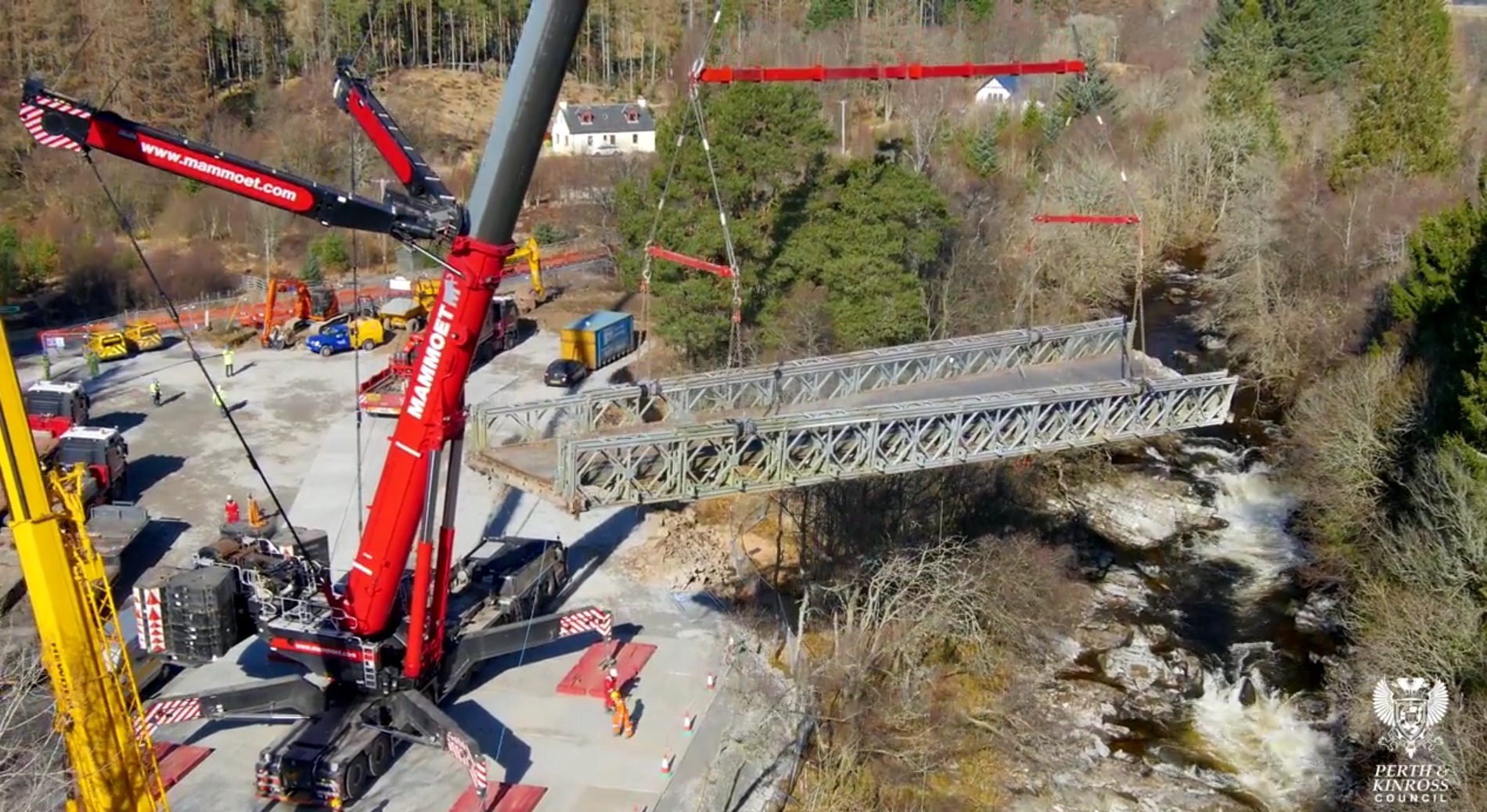 The construction crew tasked with replacing an historic Perthshire bridge, which was damaged during freak Hogmanay storms, has pledged to residents: "The end is in sight".
The crossing at Bleaton Hallet was put out of action when part of its structure was washed away by the sheer force and volume of water below.
The closure of the C446 stretch, between Alyth and the A93, has meant an 18-mile detour for drivers.
In March, a huge crane was used to remove the collapsed 35-tonne structure.
Perth and Kinross Council has awarded the contract to design and build the replacement link to Motherwell-based construction specialists Morgan Sindall.
The company is now preparing to start work on the £1 million replacement project, which bosses hope will be completed by the end of the year.
The new bridge will be made using a galvanised steel structure and has been designed to allow all vehicles to cross, with no weight restrictions.
The site team will be working around a four metre vertical face on the east embankment to construct new abutments, pouring in 100 cubic metres of concrete.
The design also includes improvements to drainage to defend the bridge against severe weather damage in the future.
Morgan Sindall has pledged to take steps to protect any damage to surrounding environment, such as debris falling into the Blackwater river below.
Dry stone walling, due to be dismantled during the build, will be salvaged and reconstructed once the bridge is in place.
The company was selected for the work after giving a presentation to council officials, suggesting the Ruthven road bridge, on the outskirts of Kingussie, could be a construction model for the new structure.
Director of infrastructure Robert Ogg said: "The C466 road provides a vital link between Alyth and the A93 to Glanshee and the local communities come to depend on the infrastructure network so heavily, often without noticing how vulnerable it can be.
"We are acutely aware of this reliance and are proud to be designing and building a new bridge to restore this critical access. Our message to the many people who would usually use this route is that the end is in sight."
Perth and Kinross Council leader Ian Miller said: "I am glad to hear that we have appointed a contractor and that these necessary works to repair what is a key transport route for many people can now begin."