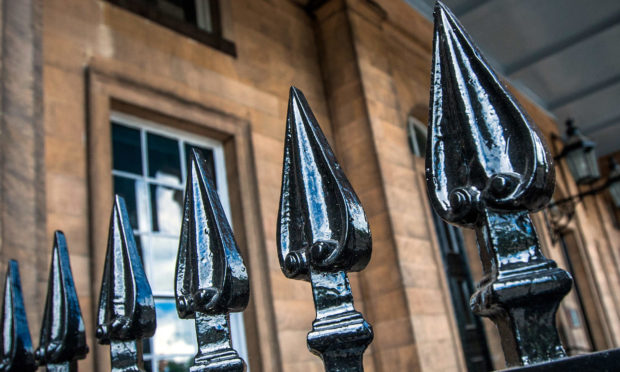 A disgraced firefighter who pressed a hot spoon on to the hand of a child has been jailed.
Alistair Foggo was convicted in June of carrying out a 13-year campaign of abuse against the boy and two women.
During the trial the boy, who is now a teenager and cannot be named for legal reasons, told the court how he believed the abuse he received was normal, a key factor in Sheriff Lindsay Foulis' decision to imprison Foggo.
Paul Parker- Smith, representing the 46-year-old, said Foggo had already been punished by losing his job with the Scottish Fire and Rescue Service.
He said: "He lost his employment at the beginning of the year as a result of these proceedings.
"It was felt they brought the service into disrepute. He's lost his job, one that he considered a career."
However Sheriff Foulis said the teenager's evidence has swayed him towards a custodial sentence.
Jailing Foggo for 18 months, he said: "It's perhaps worthy to note that (the teenager's) observation with regard to experiencing such behaviour and being asked why he never brought it to the attention of adults whom he had placed trust in was that he considered to 'the norm' and it was part of growing up.
"It is an experience that no child should have to be the subject of.
"These are serious offences and in considering disposal the key factor for me in deciding that it's appropriate to take your liberty from you is the behaviour towards (the teenager)."
During Foggo's trial, the jury heard that the boy was targeted between the ages of three and 11, with the burning incident taking place between the ages of seven and nine.
He said the incident had left him with a patch of discoloured skin above his left wrist.
He said: "I remember being burned on the back of the hand with a teaspoon. He pressed it to the back of my hand.
"I always had bruises and I still have the mark from the spoon on the back of my hand. It's a small curved mark
"I grew up with it (the abuse) so it was almost the norm for me."
Foggo, of Mill Street, Stanley,, was found guilty of assaulting an ex-partner by punching her in the face between January 1, 1997 and December 30, 2001.
He was also convicted of conducting himself in a disorderly manner towards another ex-partner between September 1, 2001, and June 30, 2010.
He repeatedly called and sent messages to her to check on her whereabouts, repeatedly called her offensive names and made abusive comments towards her, repeatedly accused her of being unfaithful to him and repeatedly seized her telephone to check her calls and texts.
The assaults on the boy took place between July 13, 2002, and June 30, 2010. Foggo repeatedly struck him and on separate occasions threw a glass at him and placed a hot metal spoon on the back of the boy's hand.