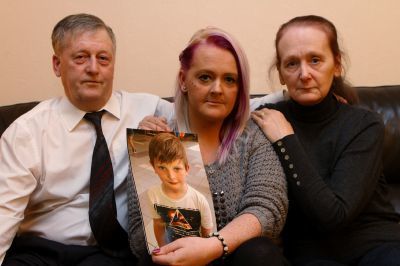 The mother of a nine-year-old boy killed on the A90 has offered her support to the family of tragic Perth teenager Kathleen Harkin.
Laura McKay's son Kairon was killed as he played on the dual-carriageway near Longforgan in October last year.
Through a group of mutual friends the nine-year-old from Almondbank was connected to Kathleen, whose body was found in the River Tay on Monday.
Laura, who has campaigned for improved safety measures on Scotland's roads, said she has been left "devastated" by the death of 15-year-old Kathleen.
She said: "I'm on holiday in Turkey and when I saw it I felt sick.
"I couldn't believe another young life had been lost.
"I'm devastated for the family, they have a very painful journey ahead of them."
Laura explained that one of Kairon's friends had also been close to Kathleen, meaning that the youngster has now lost two pals inside a year.
Hundreds of school pupils and members of the public have paid tribute since the major search for Kathleen came to a tragic end on Monday.
One of those to show her respect was Lou Cole, mother of former Perth Grammar pupil Kayla Brown, who died in 2014 after a suspected heart problem.
She said: "Thoughts and prayers are with her family and friends.
"My heart is breaking for them as they start on one of the most difficult
journeys any person can take.
"It's a horrendous path and I can't take away their pain, but as the mother of a teenage angel, Kayla Brown, I can assure them they will survive.
"And that with time the pain will change to a bearable ache.
"Strength and love to all."