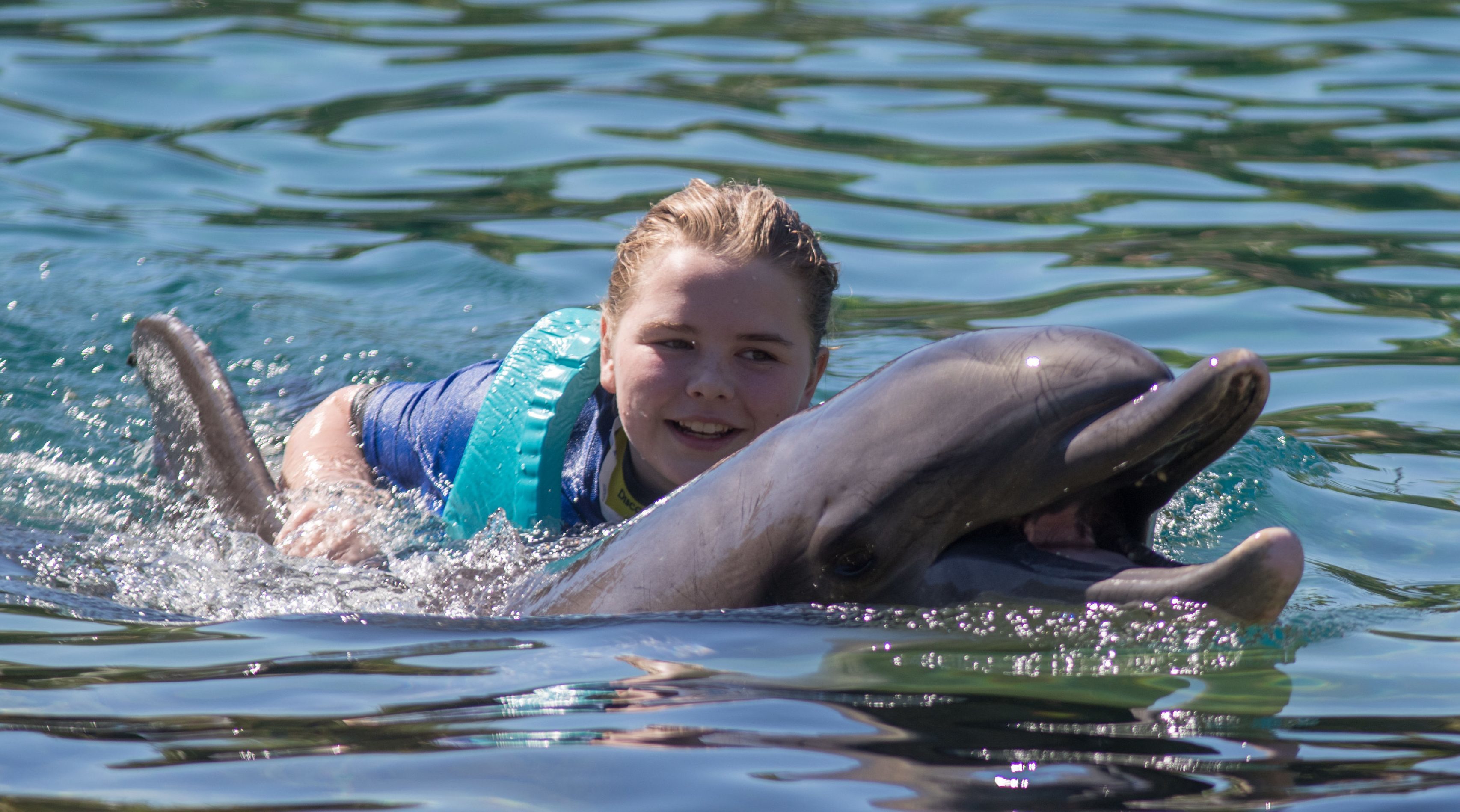 A Perth teenager is among scores of sick and seriously ill children from across the UK who left their families behind and conquered their fears on a once-in-a-lifetime sunshine holiday in America.
Morgan Maxwell, 13, from Bridge of Earn was among those who spent 10 days in Florida on the annual Dreamflight trip, having been nominated by health professionals in hospitals around the country.
The 192 youngsters – some of whom require round-the-clock attention – visited SeaWorld, Universal Studios and Disney World during an all-adventure tour of the Sunshine State.
For many, the trip represented the first time away from home, with volunteer health care professionals acting as chaperones.
As a final treat, children were given the opportunity to swim with dolphins at Discovery Cove in Orlando.
Perth High School pupil Morgan developed arthritis and Hodgkin's lymphoma while attending the city's Oakbank Primary School.
She said: "I was at home and I got a letter through the post that said I was coming to Florida and my first thought was that it was one of those dodgy letters that says you've won a cruise.
"The dolphins have been my highlight, it was really relaxing and I felt completely safe in the water. I felt special being chosen to do it.
"My nurse nominated me because of how I cope with my arthritis and Hodgkin's lymphoma. There were some days when I couldn't sit up in bed very well, or go running or open jars.
"But I am getting better, the chemo has actually helped with my arthritis. I never thought I would be able to leave the country, let alone come to America without my family and be swimming with dolphins and going on rollercoasters.
"This has been an amazing, life-changing experience that I have been lucky to go on."
Several of the children were carefully lifted from their wheelchairs to get into the water, where instructors and carers helped them get up close with the mammals.
The charity is celebrating its 30th year, having been supported by the late Diana, Princess of Wales, for its maiden flight, while a host of celebrities including golfer Ian Poulter, singer Sir Cliff Richard, and television personality Myleene Klass have given up their time to help out.
Charity founder Pat Pearce said: "I can't believe it's been 30 years – it was supposed to be a one-off trip, but people said, 'There are more children out there who need this break, you've got to do it again.'
"The 16th of November, 1987, Princess Diana came to wave us off. That was very, very special for the children, and for me if I'm honest.
"When I started it I thought it was just a holiday of a lifetime, I didn't realise how far reaching it (Dreamflight) is. The children get so much from each other, not from us adults. They see possibly somebody worse off than themselves and they think, 'Yes, I can do it'.
"For example, our former Dreamflight children now have 37 Paralympic medals. Another came back as a doctor. It's not just the holiday of a lifetime, it does change lives."
The overall trip costs around £800,000 and covers everything from a chartered British Airways jet to three meals a day.