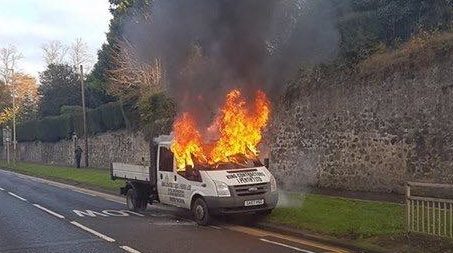 A Good Samaritan dragged a man from a blazing van after it burst into flames on a busy Perth street.
Martin Wotherspoon suffered burns to his hands and face in the incident, which happened near Kinnoull Primary School yesterday morning.
The former soldier, who now works for King Contractors, had been returning to his employer's premises when his nightmare began to unfold at 9.15, minutes after pupils had left the playground.
Unable to release his seatbelt, he desperately tried to free himself before a brave passerby came to his aid.
The 41-year-old was taken to Ninewells Hospital, where he is expected to be treated in the burns unit until at least Monday.
His partner Aston Abbot rushed to his side and said she was shocked when she first saw the extent of his injuries.
She said: "I didn't recognise him when I seen him – his face looked a bit melted and it's purple. I burst into tears because it didn't look like him.
"He's not in very good shape. One hand has all the skin taken off, the other hand is ok. He's got burns and no hair; it's singed off his face. His beard and eyelashes are gone.
"He's got to get his eyes tested and his lungs checked as well. He'll certainly be in (hospital) over the weekend – he's on morphine for the pain.
"He's traumatised – I think he's more in shock than anything."
The 28-year-old added that they were now keen to speak to the passerby who came to his rescue
She said: "There was a woman that he wants to get in touch with who helped him out of the van.
"The van was so hot that he couldn't get his belt off – he was stuck. He managed to open the door and had his head hanging out to try and breathe through the smoke but he couldn't get out.
"He managed to pull his body up and got halfway out of the top of the seatbelt without unbuckling it but it wrapped round his feet and this woman managed to get it off him when he was dangling out of the cab.
"He was only in for about 20 or 30 seconds and that was the damage done. Another 10 seconds and it would have been a lot worse – he's really lucky."
A colleague of Martin's, who did not want to be named, said the fire appeared to have stemmed from the dashboard.
He said: "The firefighters said it was an electrical fault – it looks like it was behind the dashboard.
"Everyone at the company is asking after him and we all wish him all the best and a speedy recovery."