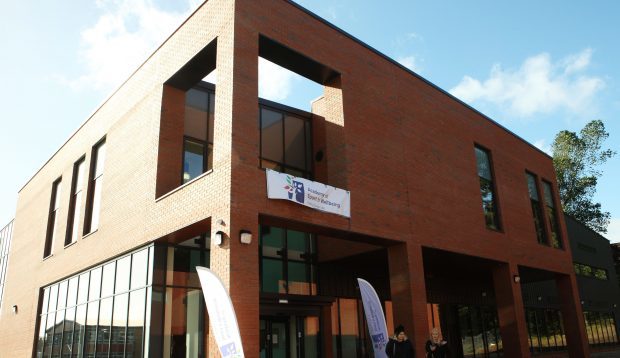 Scotland's newest climbing wall will be built at Perth College UHI's state-of-the-art sport and wellbeing academy .
The college has been awarded £200,000 by Sport Scotland's to build the climbing wall and hope to have it available for public use by January.
The facilities will be suitable for climbers of all abilities, including para-athletes.
Margaret Munckton, Perth College UHI principal, said: "It is the first centre of excellence purpose-built to meet the Climb Scotland level 1 facility development strategy.
"It is at the heart of our new academy to prepare our students for employment, whilst also increasing participation in sport."
Aviemore company Dream Climbing Walls designed and built the wall, taking inspiration from iconic Scottish climbing venues including Carn Dearg, Mangersta, Strone Ulladale and Etive Slabs.
Company owner Scott Muir, said: "It is a very significant development for Scottish climbing at time when climbing has just become an Olympic Sport with integration into Tokyo's Summer 2020 Olympics.
"We are fortunate as a nation to have some fantastic talent and excellent climbing facilities that are developing recreational climbers and the superstars of the future."
Stewart Harris, chief executive of Sport Scotland, said: "We pride ourselves on being able to support facilities that are committed to enhancing sporting experiences.
"Officially declared a new Olympic sport by the International Olympic Committee, it's encouraging to see that climbing is being recognised as a tier 1 sport. This new facility will help develop and increase participation at all levels of the sport, also catering for para climbers.
"I look forward to working closely with the team at the new Academy of Sport and Wellbeing to develop our relationship further."
Kevin Howett, sports development officer for Mountaineering Scotland, said: "One of our aims at Mountaineering Scotland is to develop the climbing coaches of the future, and this new Perth College Climbing Centre has a substantial area devoted to sport-specific training, which will be invaluable to local climbers as well as students at the college"
The Academy of Sport and Well-being, which opened in September 2016, provides hair, beauty and well-being, sport and academic facilities for students, staff and wider community groups.