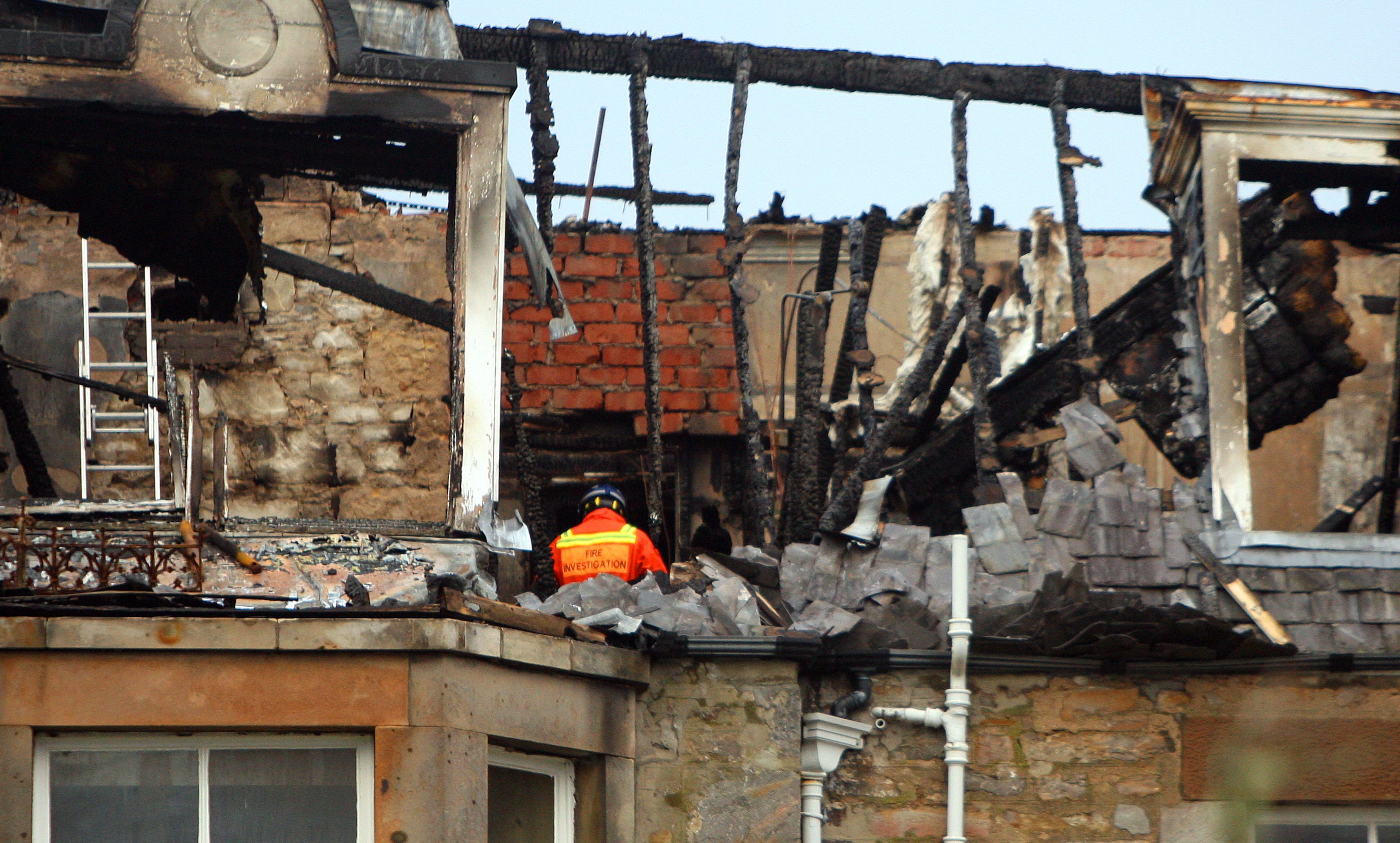 A Highland Perthshire hotel which suffered extensive damage in a New Year's Day blaze will re-open next week.
The alarm was raised at Fisher's Hotel in Pitlochry just before 6am on Sunday.
All 180 guests were evacuated as the roof of the Atholl Street building was engulfed in flames.
Now bosses are preparing to relaunch the iconic establishment early next week.
Fisher's owner Fionn MacCumhail said on Thursday evening: "We are devastated following the fire, we are so thankful that everyone was evacuated safely and without injury.
"We are so proud of the hotel team for their heroic efforts during the evacuation, subsequent thoughtfulness and calmness in such a pressured environment."
He thanked local residents, businesses, and firefighters for saving the building.
Mr MacCumhail said: "We are overwhelmed by the messages of support from guests past and present, it is clear that Fisher's is more than just a hotel to them.
"We understand that this is a historic and iconic hotel and is part of the social fabric of Pitlochry and we are committed to rebuilding the destroyed areas of the hotel.
"The job of rebuilding will commence at the earliest opportunity. We are working closely with the relevant authorities and thank them for their support and assistance so far."
He said the investigation by forensic teams had not identified the source of the fire, but had ruled out any suspicious activity.
"Fisher's Hotel will re-open on Monday and we look forward to welcoming guests back with the hospitality we are famous for," Mr McCumhail added.
The establishment will re-launch with 48 bedrooms, with around 80 still out of action. The restaurant, lounge, coffee bar, whisky bar and public bar will also re-open.
Although the damage caused by the blaze was severe, firefighters were able to contain it to a few bedrooms on the top floor.
The Coach House bar attached to the hotel reopened two days after the fire.
Police and fire chiefs have now finished their probe into the blaze, which is thought to have been sparked by a stray firework from a Hogmanay display. The squib is believed to have gone off to the side, instead of upwards, and became lodged in the eaves.
Guests were taken for shelter, food and hot drinks at nearby Scotland's Hotel. They were then bussed to the Atholl Palace, Fisher's sister hotel.
Visitors have praised management and staff for their swift response to the early morning emergency. Many have shared their experiences on Fisher's Facebook page.
Mary Boyle wrote: "We were guests in the hotel and can't thank the staff, local community and the Scotland and Atholl hotels enough.
"The emergency services were fantastic. The team at Fisher's were up at 5.30am with the rest of us, in their dressing gowns and PJs, helping people, serving hot drinks and maintaining a professional and caring approach to the situation all day. Respect guys."
A post from Whitehaven couple Barbara and Donald Innes states: "From initially being told our room had been totally destroyed, to finding out it was in fact still intact was such a relief.
"So very pleased you can get the hotel fit for habitation so soon… we will be back to stay very soon."
Around 55 firefighters were drafted from as far afield as Inverness in to bring the blaze under control.