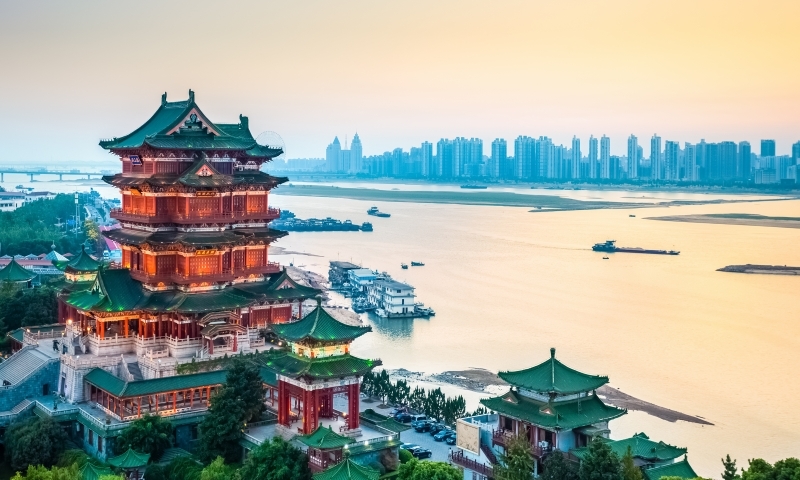 Attracting visitors from China could hold the key to ushering in a new tourism and economic bonanza for Perth and Kinross.
Between 2012 and 2014, Chinese tourists are said to have brought £112 million to the Scottish economy alone.
It is believed that is just the tip of the iceberg, however, with China identified as a growing tourism market opportunity.
There has been particularly rapid growth in the Chinese tourism market towards European destinations and efforts are being made to ensure Perth and Kinross is "China ready".
Businesses briefings have been taking place in the past week to provide vital guidance, with the sessions led by Perthshire Tourism Partnership and Perth and Kinross Council.
Perth has long claimed strong ties with East Asia through trade and what was a pioneering twinning agreement with the city region of Haikou in China's Hainan province.
High level delegations have made visits to China and Scotland in recent years, with then-provost Dr John Hulbert leading one in 2011.
Members of Perth's Chinese business community have also worked hard to strengthen ties between the two.
The result of those visits has been improved business and educational links, with Perth College UHI partnering with the Hunan Institute of Engineering Hainan University and the No.1 Middle School.
Tourism chiefs, however, believe there is significant scope for further benefits – as long as businesses appreciate the specific demands of the Chinese market.
Chinese visitors desire genuine respect, appreciate a high level of enthusiasm, a positive attitude and a good understanding of Chinese culture from service providers.
Flight connectivity with China is improving and moves are being made to secure a direct air-link from China to Scotland.
A good example of  this is already happening in Edinburgh. Scotland's capital city is now the second most visited destination in the UK.
Over 150,000 Chinese nationals passed through the turnstiles of Edinburgh Castle alone in 2015.
The city of Perth and the Perth and Kinross area are considered to be in a strong position to attract Chinese visitors.
And enterprise and infrastructure convener, Councillor John Kellas, believes now is the time for businesses to start looking at how China can boost the economy of the local area.
He said: "A growing number of Chinese tourists are opting to holiday in European destinations.
"It is therefore increasingly important that tourism providers have an understanding of Chinese culture and the expectations of the Chinese visitor to Scotland.
"I hope businesses across Perth and Kinross will be inspired to help make this area a very appealing destination to Chinese visitors.
"That will in turn increase the presence of Perth and Kinross in the tour itineraries of more international travel agents."
Dunkeld and Birnam Tourism Association and Blairgowrie and East Perthshire Tourist Association (BEPTA) are particularly keen to ensure they are "China ready".
There has been a marked increase in Chinese visitors to Birnam and Dunkeld following the buy-out of two local hotels by travel agency and tour operator Omega Travel, which trades as the Far East Travel Centre and the Chinese Travel Shop.
A recent seminar in Birnam saw delegates hear what hotels, restaurants, retailers and destinations in Scotland could be doing collectively to help Chinese visitors have a better holiday.
VisitScotland's Regional Director Jim Clarkson added: "China has a huge growth potential for tourism in Scotland and the Chinese market has a growing importance to tourism in Perthshire.
"We will be working hard to enable businesses to share industry experience and best practice from across the region."
---
A 25-year link
Perth's link-up with Haikou dates from February 1992 when former Provost Alex Murray signed a landmark twinning agreement on behalf of Perth and Kinross District Council.
It was seen as a great way to link Perth – and Scotland – to the fastest developing industrial market in the world.
Though it has lapsed for periods since, the importance of the twinning is now keenly felt on both sides of the world.
The Fair City boasts a population in the region of 47,000 and Perth and Kinross around 146,000, with the region placing a heavy emphasis on food and drink and tourism.
Haikou shares that focus on tourism, but for very different reasons.
The city is the capital of Hainan province and though that is China's southernmost and smallest province, its capital nonetheless boasts a population in excess of 600,000.
It became a separate province in 1988, after the 200 or so tropical islands it comprises were granted permission to break away from Guangdong.
Known as the "Coconut City", it is famed for its miles of beach, excellent bathing and seaside resorts, together with sailing and windsurfing – acting as the base for the country's national teams.
The city also prides itself in its culinary heritage and there are a number of prized local dishes, which unsurprisingly include seafood.
Its history is also much on display, with a number of important temples mingling with shopping arcades, high-rise properties and palm trees.
Haikou also boasts a number of top universities and colleges, which have been an important part of the twinning with Perth.