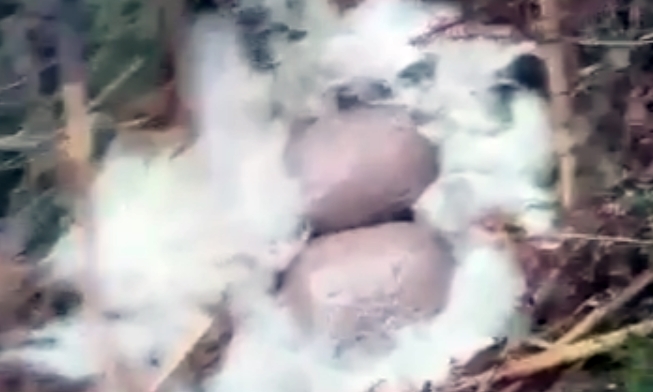 To see them in captivity is pleasure enough, but there is nothing quite like a wild haggis experience to stir the heart of any Scot.
We owe thanks, then, to the Tayside and Central Scotland Moorland Group for sharing this intimate footage of an all-too rare encounter with one of Scotland's most elusive species.
Filmed high in the hills of Tayside and surrounded by Scotch mist, the video shows one of the group's gamekeepers carefully approaching a haggis nest and finding two precious eggs inside.
❗️Good morning everyone❗️ One of our #gamekeepers has been out on his moor to catch us a rarely seen iconic #Scottish scene.One of the unspoken about perks of a gamekeepers job is being able to watch wild #haggis and with this video we are able to be part of it too…Enjoy ?#TCSMG#burnsnight#wildhaggis

Posted by Tayside and Central Scotland Moorland Group on Tuesday, 24 January 2017
A spokesman said: "Visitors to Scotland come and they're very disappointed that they don't get the chance to see the wild haggis.
"We cannot over-emphasise that if you're not in the Scotch mist you're not going to see a haggis. That's where they are; that's where they live."
The group is also careful to stress the importance of proper behaviour around the wool-lined nests, and the gamekeeper is shown taking special care not to disturb the nest or leave a scent.
Viewers have reacted with delight, and described their own hopes of one day seeing the haggis free and wild in the Scottish countryside.
Dave Osborne said: "I've only ever seen farmed haggis. I would love to add a wild haggis to the bag this year."
Sheila Pattullo has come close but never quite tracked one down.
She said: "I have heard them and seen tracks when I have been out walking but never seen them up close apart from the farmed ones."
The gamekeeper added: "Delighted to be able to share that with you. And on behalf of everyone at Tayside and Central Scotland Moorland Group, we'd like to wish you all a very happy Burns Night."