Chinese New Year celebrations will  help bring Perth's Winter Festival to a close next week.
The city is preparing to welcome the Year of the Rooster in style with a colourful procession and spectacular lion dance.
The free street parade, which gets under way on Monday afternoon, is organised each year by the Perthshire Chinese Community Association, with backing from the local authority.
The popular event has grown year on year to become an important milestone in the city's cultural calendar.
A huge Chinese dragon and lion, controlled by a team of puppeteers, will lead the procession over the bridge to the Norie-Miller Walk, which will be illuminated in a range of colours.
The riverside trail will be lit up each evening until February 14.
Provost Liz Grant said: "The annual Chinese New Year parade has become a must-see event in the Perth city events programme.
"I am always pleased to attend and take part, and celebrate this important date with members of the Perthshire Chinese Community Association."
She added: "This year's event offers even more to make it attractive to visitors, with the potential to continue the celebrations over the river at Norie-Miller Walk, and experience the beauty of this spectacular riverside feature."
Parade participants will gather at the bottom of High Street, near Tay Street, at 4.45pm. Firecrackers will be lit from a viewing platform to mark the beginning of the procession.
The parade will make its way along High Street to King Edward Street, before turning on to St John's Place and going behind St John's Kirk on to St John Street.
It continues to South Street and over the Queen's Bridge. There will be a tai chi demonstration at the Norie-Miller Walk.
Andy Chan, vice-chair of the Perthshire Chinese Community Association, said: "We are delighted to work in partnership with Perth and Kinross Council once again to host the Chinese New Year celebrations in Perth city centre.
"In the year where Perth will be submitting its bid for UK City of Culture, the annual Chinese New Year celebrations help promote cultural harmony, equality and diversity amongst the community in Perth and Kinross, so as to foster integration and community cohesion.
"I know the Chinese community is extremely excited about the Chinese New Year event and it will be a fantastic way to bring in the new year and the rooster."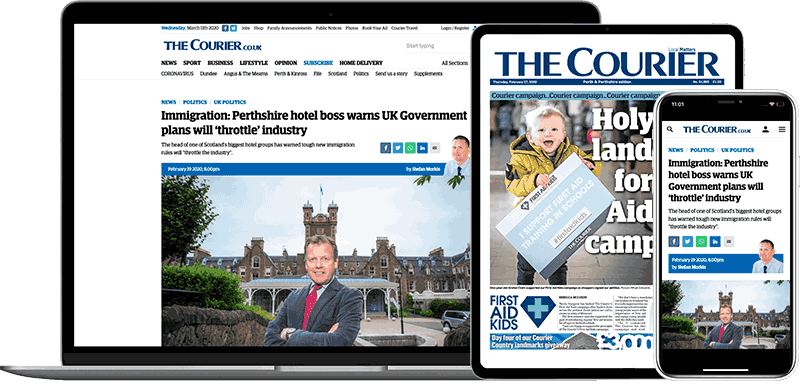 Help support quality local journalism … become a digital subscriber to The Courier
For as little as £5.99 a month you can access all of our content, including Premium articles.
Subscribe