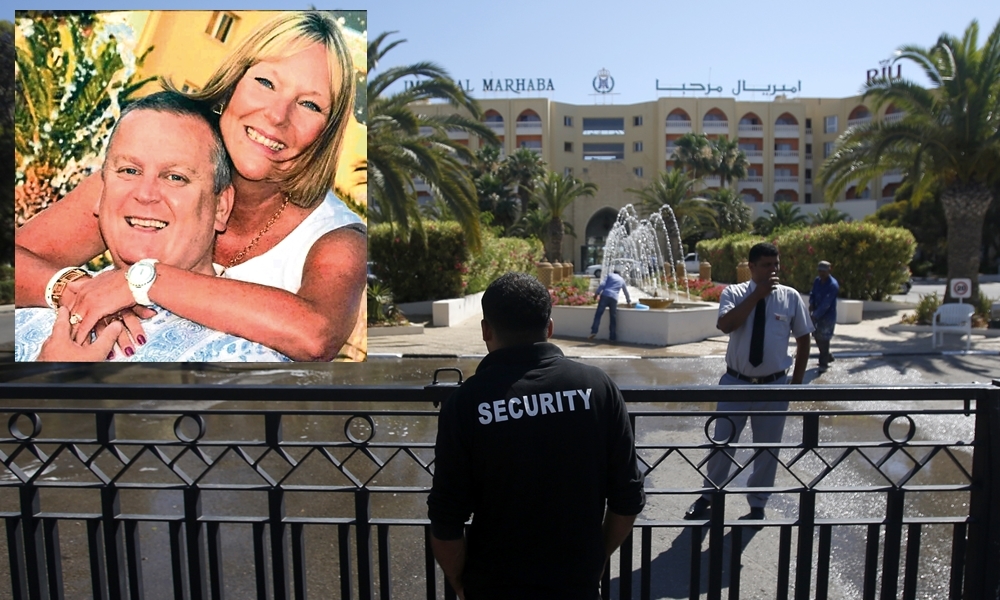 A Perthshire couple died as they sought refuge in a corridor of the first-floor office section of a hotel, the inquest into the mass murder of tourists in Tunisia in 2015 has heard.
Billy and Lisa Graham, from Bankfoot near Perth, were on a trip to Sousse to celebrate Mrs Graham's 50th birthday and their 31st wedding anniversary when they were shot dead.
Mr Graham, 51, who served for 22 years in the 5th Royal Inniskilling Dragoon Guards, and his wife tried to escape from the gunfire by leaving the lobby through a doorway next to the reception area.
The hearing was told Mrs Graham, nicknamed "sun goddess", was a very caring and thoughtful woman who loved to laugh.
Mr Graham, who volunteered for St Johnstone in his spare time, was described as happy-go-lucky and a big joker who loved to make people laugh.
Mr and Mrs Graham's family and friends watched the inquest at the Royal Courts of Justice in London via video link from Stirling Sheriff Court.
CCTV played to the court showed extremist Seifeddine Rezgui, who opened fire at the Riu Imperial Marhaba Hotel on June 26 2015, carrying his gun in one hand, later walking into the hotel lobby before a member of staff emerges from the same door near the front desk.
The gunman is seen to turn and head towards the door, gesturing at the woman with his hand rather than raising his weapon.
Witness Thomas Richards, whose evidence was read to the court by inquest counsel Jonathan Dixey, said the Grahams were among 20 to 25 people who fled into the corridor with the help of hotel staff.
He said: "There was one person, a member of staff, saying 'this way, come up here'. That was up to a service area.
"About 20 to 25 people made their way up there. Looking back it was just like she was herding cows.
"In my mind the gunman should not have known about this area.
"To my mind it's strange how he ended up in the corridor.
"During my time running from the sun lounger to the hotel, I did not see anybody being shot or injured, which is why I had the impression of him being some way behind us."
The survivor, who was with his mother, said some of the group hid in a room for between five to 10 minutes before Rezgui appeared and there were more gunshots.
"I saw two people hit the floor at the bottom of the corridor," he told police officers in an interview. "Then it was almost like the waves parted."
There was an explosion, possibly caused by a grenade, and more gunshots, Mr Richards said, before Rezgui turned back on himself and several people sought refuge in the toilets.
The inquests continue today.