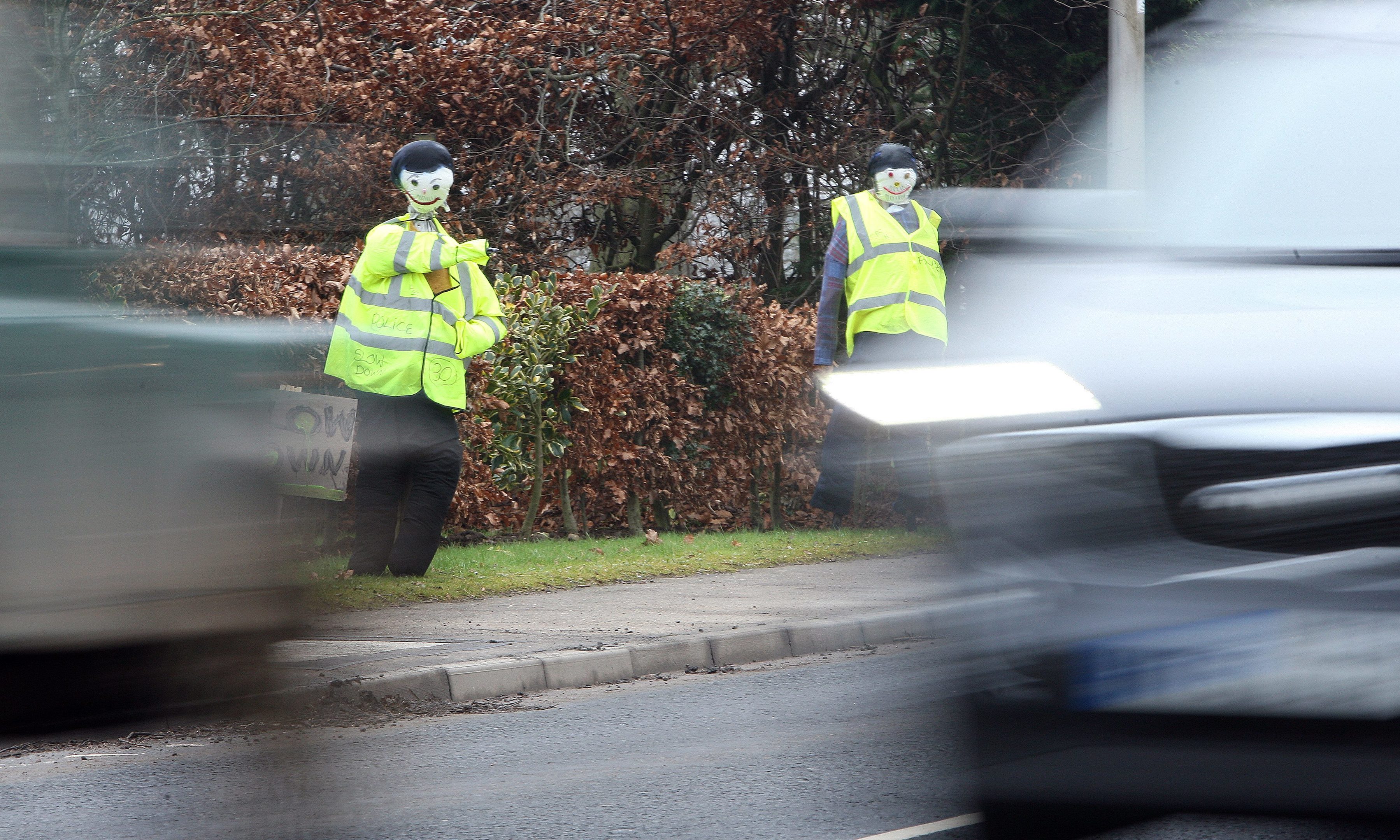 Formal traffic calming plans to slow speeders at an accident blackspot are due "very soon", a councillor has confirmed.
Dennis Melloy has been working with officials at Perth and Kinross Council on proposals to slash speeds at Coupar Angus.
The plan is being kept under wraps, but will be submitted to community councillors to gauge support.
It comes as frustrated safety campaigners installed two scarecrow-style policemen at Forfar Road.
The dummies were placed near the spot where two-year-old Harlow Edwards was knocked down and killed last October.
Locals say they appear to be quite effective and are helping reduce the speeds of traffic coming in and out of the town.
Mr Melloy said he welcomed "any legal measures" to slow down speeding traffic.
"Having seen at first hand the immediate effect these yellow shirted dummies have on slowing traffic down on the Forfar Road, I have to applaud the ingenuity of those responsible," he said.
Mr Melloy said that all cars seemed to be applying the brakes as they approached the pretend officers.
"Whether drivers were over the limit or not, their first reaction was to slow down when they saw the yellow jackets," he said.
"Unfortunately, these measures by concerned local residents are only temporary as drivers get used to them fairly quickly. They are not a permanent solution.
"But it does show the depth of feeling regarding the general speed of traffic on this stretch of road, it also shows the effectiveness of a police presence."
Mr Melloy added: "Traffic measures will be implemented very soon and plans have been submitted to community council and elected ward members for their consideration.
"As with all projects which the road safety team undertake, there will be future monitoring to determine the effectiveness of the measures and further action may be proposed should that be deemed necessary."
In November, council traffic manager Charles Haggart discussed early plans for Coupar Angus, involving an electronic early warning sign.
However, residents — including some of Harlow Edwards' family — said the proposal did not go far enough.
On Tuesday, Police Scotland confirmed that a 23-year-old man had been charged in connection with the crash which claimed Harlow's life and seriously injured her older brother and sister.
A report has been sent to the procurator fiscal and he is expected to appear in court next month.
A Perth and Kinross Council spokeswoman said: "We have been developing plans for traffic management measures in Coupar Angus in consultation with local elected members and Coupar Angus and Bendochy Community Council.
"These plans were recently submitted to the community council for consideration. Once Perth and Kinross Council has received feedback on the plans from the community council, implementation of the traffic measures will begin. It is not possible to release the plans to the public domain until after this."