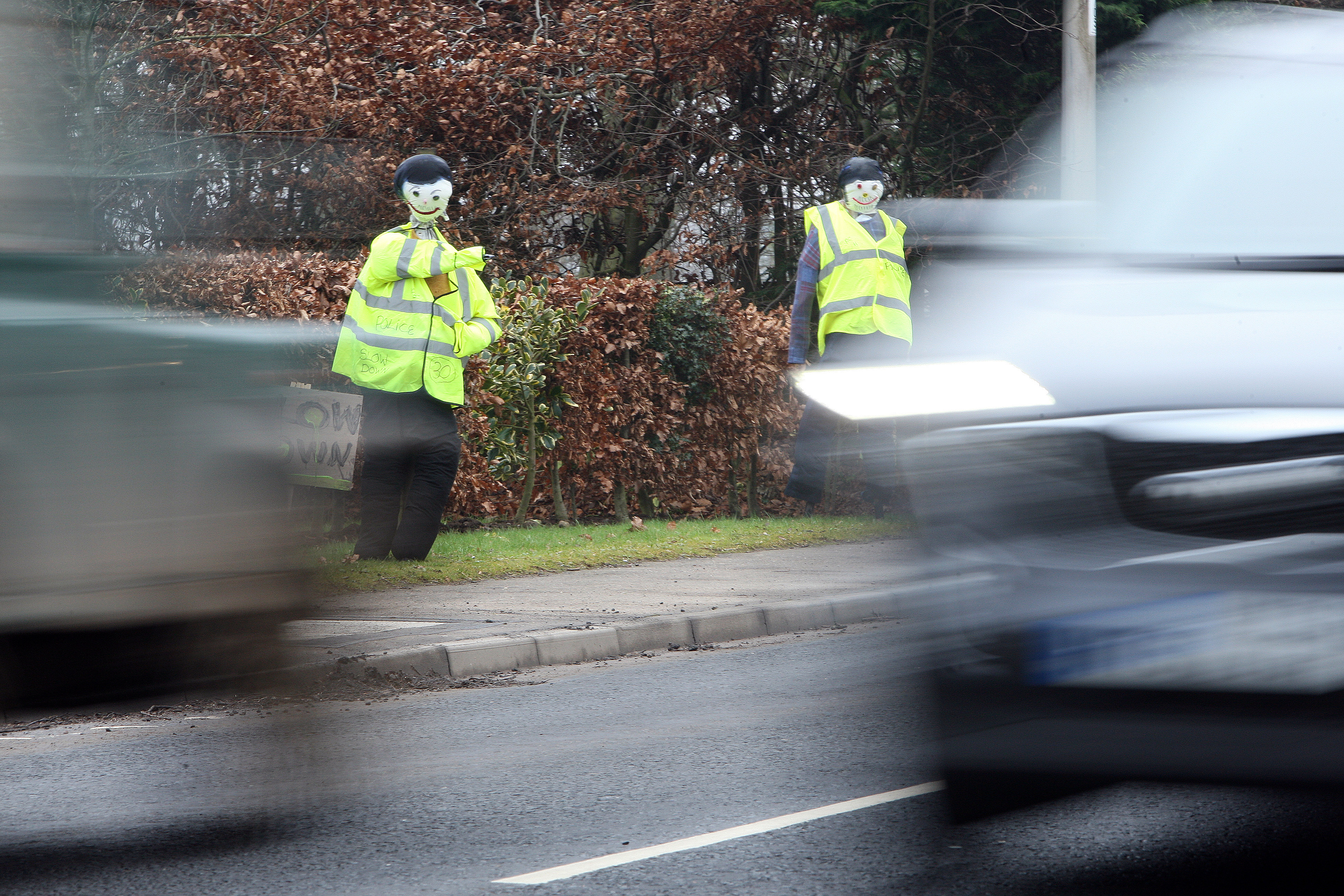 Coupar Angus residents have reacted with anger and dismay following the sudden removal of the two "policemen" who had been helping to reduce speeds in the town.
A pair of mannequins dressed in reflective yellow jackets and accompanied by signs asking motorists to slow down were installed after the death of toddler Harlow Edwards in the town.
Eyewitnesses said they were having "a remarkable impact", but within days they have been removed by Perth and Kinross Council.
Officials will now press ahead with official traffic calming measures, though their introduction is far from imminent.
Locals report since the mannequins were removed the problem of speeding has returned.
Matters came to a head in October 2016 when toddler Harlow Edwards was killed by a speeding driver near to her home at Larghan View.
Frustration with Perth and Kinross Council and Tayside Police has grown, leading some Coupar Angus residents to come up with the plan involving the two "special constables".
Despite their apparent success at reducing driver speed, the council has removed the mannequins claiming they were illegal and dangerous as they could potentially distract drivers.
In response, Sara Edwards, Harlow's mum, pointed out on social media that Police Scotland had said they were not illegal.
Others met the decision with anger and derision, with Larghan View resident Jimmy Harris saying: "I think we need to have a strong word with the council.
"The idea that two scarecrows are more dangerous than speeding cars shows they have no common sense."
The first of the council's proposed measures for tackling speed would involve an extension of the school-time 20mph limit on Forfar Road and an extension of the 30mph limit on Coupar Angus Road.
Those proposals will go before the March 8 meeting of Perth and Kinross Council's enterprise and infrastructure committee.
Other traffic calming measures at Forfar Road, Coupar Angus Road and at Larghan Park could then follow.
The council said the measures were being taken forward following consultation with Coupar Angus and Bendochy Community Council and local elected members.
Committee convener councillor John Kellas said he hoped to see the changes made soon and addressed the council's removal of the community's own unofficial measures.
"Subject to approval by the committee, the council will begin the formal process of changing the speed limits," he said.
"We will continue to work with elected members and the community on further traffic calming measures as quickly as possible.
"In addition, the council was aware that individuals had placed additional material at the side of the road to discourage speeding.
"While the council appreciates that this had been done with the best of intentions, it is illegal for any unauthorised signage to be erected at the side of the road as they may distract drivers and could jeopardise any enforcement action taken by Police Scotland.
"In the interest of safety these have been removed and we will progress with the implementation with the agreed measures as quickly as possible."