A criminal was found huddling in a snow-covered field wearing a swimming cap and tinfoil suit after the theft of hundreds of metres of copper cable led to the collapse of phone services in Perthshire.
Patrick Kelly donned the bizarre outfit to combat wintry conditions as he looked to pad his wallet by hauling away large amounts of the valuable metal.
The telecommunications blackout that followed an attack on BT phone lines led to a flurry of customer complaints and sparked a major investigation by engineers.
They called in the police after discovering thousands of pounds of cable had been cut and removed from the side of the old A9, near to Blackford.
Kelly subsequently became the focus of the police probe after twice being spotted making late night visits to the area around Chapelbank Farm.
On August 18 last year, he and another man were seen by a local gamekeeper as they apparently burned lengths of cabling to get at the wire inside.
They were surrounded by piles of the wire and the witness reported that the accused later loaded some of the metal into a van and drove off.
Kelly was spotted driving in the area once again the following day, and was this time stopped by police officers, who found a small amount of the cable in the back of his vehicle.
Undeterred, he returned to the same area a couple of months later, only to again be seen by a member of the public who called the police.
Officers arrived to find the location was just a short distance from that targeted four months earlier and swiftly found an abandoned rucksack full of tools.
The accused's van was also discovered parked in a nearby layby and removed by the police as part of their investigation.
Perth Sheriff Court heard that had left Kelly stranded at the scene.
He was discovered by officers around an hour later – his attempt to avoid detection in the snow not helped by his all-black outfit.
Depute Fiscal Robbie Brown said he had been "huddled on the ground by a barbed wire fence immediately on the other side of the layby in which his vehicle was found".
"He was wearing dark trousers, jacket and boots and a dark hat," the prosecutor said.
"He appeared to be extremely cold and was covered in snow and could provide no explanation for why he was there."
Kelly's now useless car keys were discovered lying in the snow where he had been hiding.
Mr Brown added: "He was taken to Perth police station where he was searched and was found to be wearing a swimming cap under his woollen hat.
"He was also wearing a sauna suit – essentially an insulated tinfoil garment – beneath several layers of clothing.
"Police officers believe that indicated he had intended to be outdoors in the snowy conditions for some time."
BT officials reported that engineers had been forced to replace 759 metres of cable at a cost of £2,700.
Kelly, 46, of Baird Drive in Twechar, East Dunbartonshire, subsequently admitted resetting a quantity of telecommunications cable on various occasions between August 17 and December 9, 2014.
He also pled guilty to being in possession of tools, cable machinery, insulated clothing and a rucksack containing tools on December 9, 2014, from which it might be inferred he intended to commit theft or had committed theft.
Kelly claimed he had not reset all of the cable alluded to – blaming his unnamed accomplice for having taken the larger part of the haul.
The court heard he was currently unemployed and in receipt of benefits, including an £80 a month disability allowance for a bad back.
Sheriff Lindsay Foulis told Kelly he had narrowly avoided a prison sentence as he instead ordered him to carry out 250 hours of unpaid work.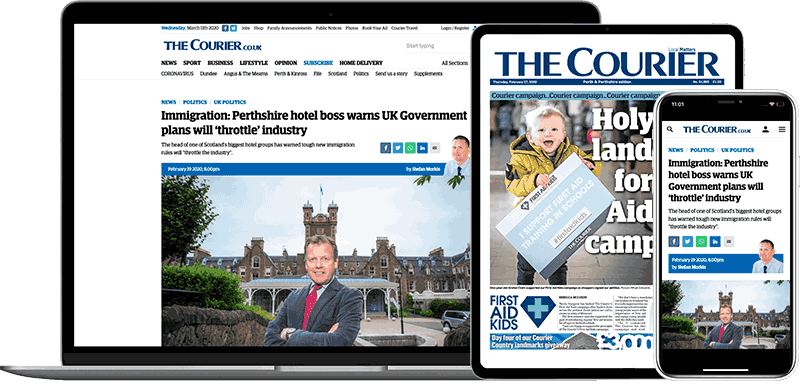 Help support quality local journalism … become a digital subscriber to The Courier
For as little as £5.99 a month you can access all of our content, including Premium articles.
Subscribe