 In 2014 the body of an unknown British soldier was discovered in a farmer's field at Cuinchy near Arras in France.
Found alongside the remains were a variety of personal effects including a spoon with the number 5181 stamped on it, an item which proved vital in unravelling the identity of the man.
A two-year-investigation led to revelations of heroism in the worst of circumstances and the sacrifice of Lance Corporal John Morrison.
The remarkable story of this lost First World War soldier is told in an exhibition taking place at The Black Watch Castle and Museum in Perth.
Hope Busak, Curator at The Black Watch Castle and Museum explained: "Lance Corporal Morrison is the most recent Black Watch soldier from the First World War to have been identified.
"We, at The Black Watch Castle and Museum, are honoured to have been part of the process which led to this discovery and the sharing of his story and courage in battle.
"We know from records that Morrison, only promoted to Lance Corporal days before his death, fell wounded in the leg but managed to crawl to an injured officer and assist him.
"It was during this act of bravery that he was shot dead.
"This exhibition explores the incredible story of Lance Corporal Morrison; tracing his courage and sacrifice, exploring the tale of his discovery on the battlefield and the moving military funeral which laid him to rest over 100 years later".
A burial with full military honours took place at Woburn Abbey Cemetery in Cuinchy in July 2016 in a ceremony led by the Reverend Stewart A Mackay, Chaplain of The Black Watch 3rd Battalion, The Royal Regiment of Scotland.
A new headstone bearing his name was provided by The Commonwealth War Graves Association to mark his resting place.
Lance Corporal Morrison was born in Tomintoul, Moray, but brought up at Brodie Castle near Forres after his father became gamekeeper there.
The young John followed in his father's footsteps and himself became a gamekeeper on the Ardtornish Estate in Argyllshire.
When war broke out, he decided to volunteer and travelled to Perth to enlist with the Black Watch in September 2014.
He served with the 1st Battalion which, shortly before Christmas of that year, was redeployed from Ypres to Cuinchy to counter an anticipated enemy advance.
When it came, the attack was fierce. The front line was swiftly overwhelmed and it fell to the battalion – along with other forces – to attempt a desperate re-stabilisation of the position.
It was during that bloody combat that Lance Corporal Morrison fell – one of 59 casualties suffered by his battalion that day.
Comrades reported the heroism of his final moments, writing home to John's parents of his sacrifice.
Felled by a bullet to the leg, he is nonetheless said to have dragged himself through the mud to assist a wounded officer.
He was shot again, this time fatally, as he attempted to help the officer.
Morrison: The Man, The Search, The Discovery is on display at The Black Watch Castle and Museum from until June 6.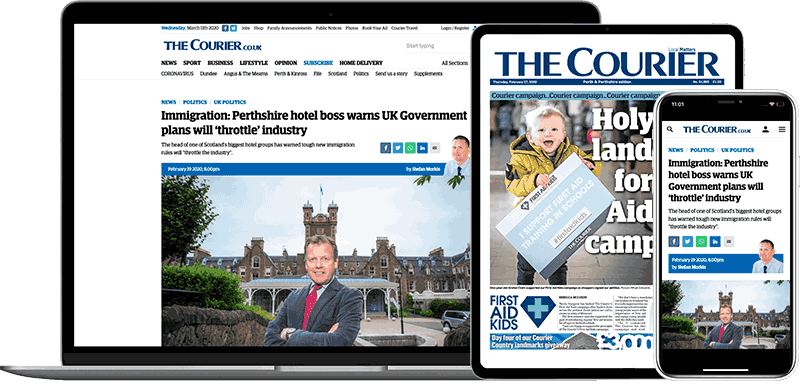 Help support quality local journalism … become a digital subscriber to The Courier
For as little as £5.99 a month you can access all of our content, including Premium articles.
Subscribe