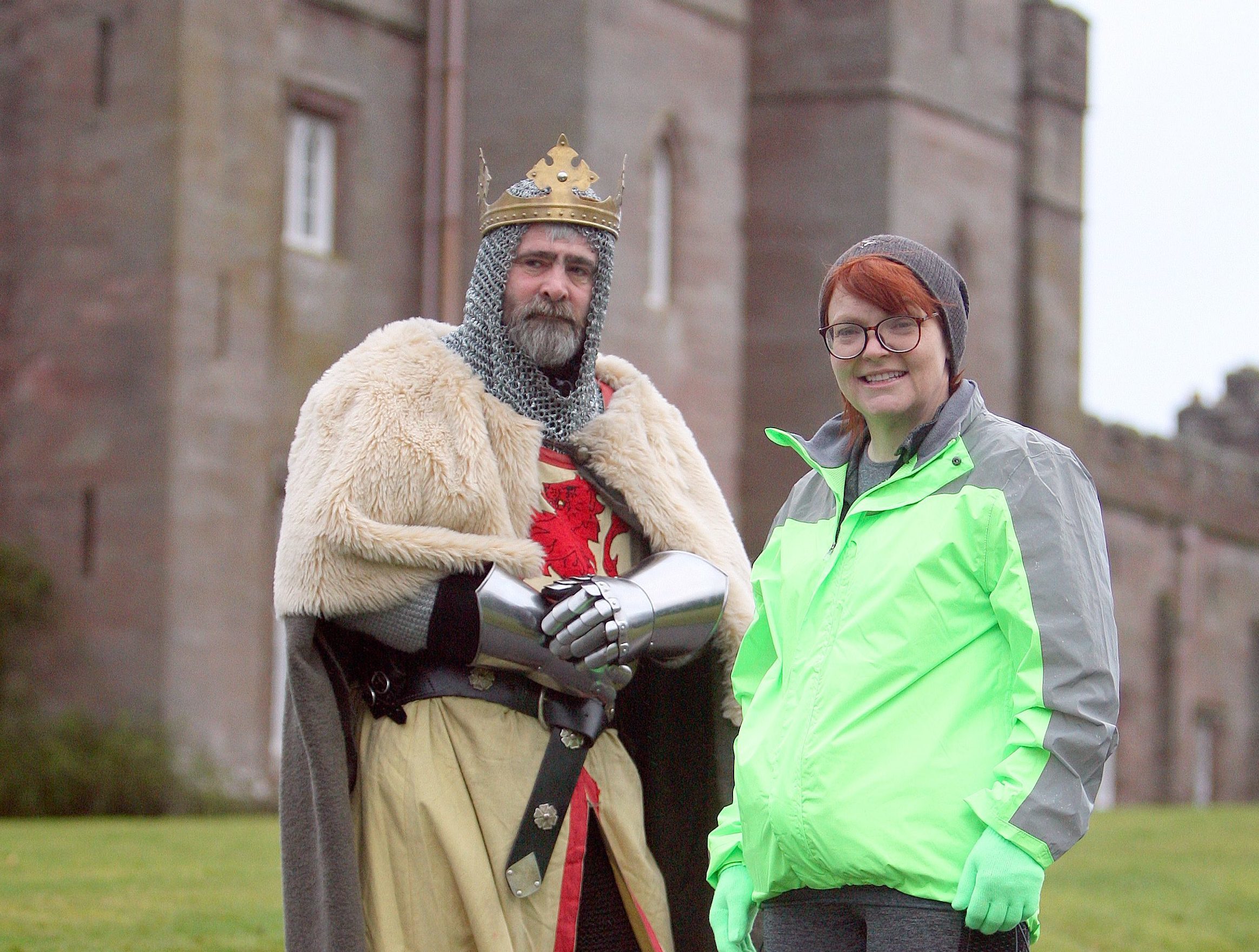 One of Scotland's legendary figures was brought to life at the weekend when Robert the Bruce led his 'army' off from Scone Palace to a Glasgow pub.
Brian McCutcheon re-enacts the historical legend at the Palace and tells stories of how Bruce was crowned King of Scotland at Scone, and went on to defeat Edward II at The Battle of Bannockburn.
So, when his partner Gini Craig, decided to raise an army and march to help wage war on cancer, she knew the story had to begin at Scone Palace.
Mr McCutcheon's mother, Jean, is suffering from inoperable cancer so it was decided that Ms Craig and her friend, Yvonne Kernachan, would embark on five challenges to raise £5,000 for five cancer charities.
Ms Craig said: "Sadly, like most people I know, I was all too aware of cancer and it got me thinking, could I do something more than change my profile picture on social media? I came up with 'Our 555 Challenge' — a plan for me and my best friend, Yvonne, to take on five challenges in 2017."
The mother-of-two wanted a challenge that would inspire others to arrange their own fundraising opportunities. The first of these challenges is a 100km walk, 'From Scone to the Scotia.'
"Scone Palace holds a very special place in our hearts and minds so where better to begin this walk and launch the challenges than at Scone," Ms Craig added.
On Saturday, Ms Craig, Ms Kernachan and an army of friends led by Robert the Bruce in full regalia set off from Scone Palac on a 100km walk from the crowning place of Scottish Kings to Glasgow's oldest pub, the Scotia Bar.
Margo Baird, marketing manager for Scone Palace, commented: "We're delighted that Gini has chosen Scone Palace as a venue to launch the challenge and are happy to lend our support. Her desire to do something worthwhile has led to a very inspiring and creative approach to fundraising which will benefit some fantastic charities."
The packed calendar of challenges for the team include racing a Viking longboat, climbing Ben Nevis, stepping off the Titan Crane in Glasgow and going across the River Clyde on a zip wire.
The challenge has currently reached 12% of its target on Just Giving, and is also raising extra money through individual sponsorship.
The charities chosen to receive donations from the '555 Challenge' are Cancer UK, Macmillan, Lanarkshire Cancer Care Trust, Breast Cancer Care and Be Child Cancer Aware.
Anyone wishing to donate should visit www.justgiving.com/teams/our555challenge.