Hundreds of friends and family packed Dunkeld Cathedral for a celebration of the life of John "Jock"Moffat, the pilot who won fame as "the man who sank the Bismark".
Lieutenant Commander Moffat RN, who latterly lived in Perth, died in December aged 97.
The many people whose lives he touched gathered for a service of thanksgiving conducted by the Reverend Shona Boardman on Wednesday. In a eulogy Ian Macdonald spoke of Mr Moffat's love of life and in particular flying.
To laughter he told how Mr Moffat, in his 70s, flew over Mr Macdonald's house, narrowly missing the chimneys.
He then turned to the episode which brought his friend lifelong fame and helped change the course of history.
It was in was in May 1941 he swooped from the clouds in a Fairey Swordfish to fire a torpedo into the rudder of the Bismarck, fatally disabling the battleship.
It was left at the mercy of the Royal Navy and the sinking of the warship was a major boost to British morale as retaliation for the destruction of HMS Hood two days earlier.
Mr Moffat was 21 at the time and he always found it difficult to talk about how he saw hundreds of German sailors bobbing in the sea, with little chance of survival.
The combined German and British casualties meant that 3,500 people died over the course of 48 hours.
Mr Macdonald said the death of Mr Moffat was the end of an era.
"I believe John was the only survivor from this epic encounter," he said.
Hamish McBride, his GP, also spoke and described him as one of the "great characters of the Tay valley".
He recalled how Mr Moffat ran the Grandtully Hotel with his late wife Marjorie before moving to Dunkeld.
"He had a completely full and happy life," he said.
Bob Lindsay gave a reading, as did Rear Admiral Keith Blount who also laid a wreath.
At the beginning of the service Kenny Wilson played a selection of Scottish music on the violin and piper Ross McNaughton played at the conclusion of proceedings.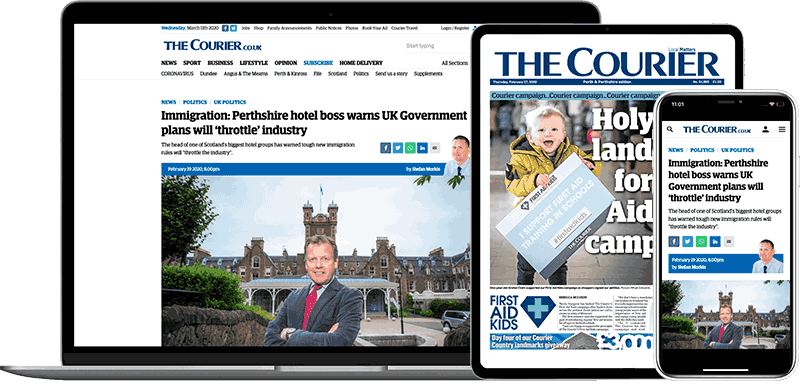 Help support quality local journalism … become a digital subscriber to The Courier
For as little as £5.99 a month you can access all of our content, including Premium articles.
Subscribe