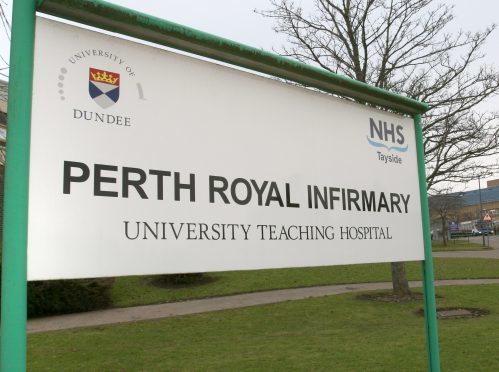 A "perfect storm" of financial difficulties, staffing shortages and bed blocking risks crippling health services across Tayside, claims an MSP.
The nursing crisis afflicting Perth Royal Infirmary (PRI) has seen 12 operations "deferred" in a matter of days after health bosses admitted they could no longer cope.
More procedures are expected to fall by the wayside in the coming days as the health board struggles to fill vacancies and reorganises services and wards.
Mid Scotland and Fife MSP Alexander Stewart, however, fears that the chaos is also having a detrimental impact upon council services. He said staff shortages meant it was increasingly difficult to get health professionals out into the community.
The politician remains a councillor for Perth City South — the ward that includes PRI — and says the scale of the problem cannot be overestimated.
"No one is any doubt that NHS Tayside is doing all it can to solve its staffing problems and secure more vital nursing staff.
"I have had discussions with the health board and I know that senior managers are trying to find a way forward.
"Nonetheless, you cannot get away from the fact that it currently needs to recruit around 100 nurses across Tayside and that with every month that passes more senior staff retire or leave the profession.
"In the past, NHS Tayside has relied heavily on bank and agency staff to fill gaps. That has come at a huge cost.
"With the crippling financial difficulties being faced by the health board it has had to reduce its budget and reduce its spending on staff.
"The result of that is that we are now starting to see the gaps and the staffing issues are coming to a head."
Mr Stewart added: "Delayed discharging is also having a massive impact upon services.
"Because the health board cannot get people out into the community it is blocking beds, which in turn delays operations.
"It is also impacting upon Perth and Kinross Council as the local authority is struggling to get health professionals into the community.
"The result is that people end up staying in hospital longer than they need to.
"NHS Tayside is aware of all these difficulties and is working to address them but it is all adding up.
"I do not think defining it as a 'crisis' is inappropriate."
NHS Tayside announced last week that it was being forced to merge wards and delay surgical and orthopaedic procedures as a result of a chronic nursing shortage.
A spokeswoman for the health board said such action was a last resort but had unfortunately been necessary.
"During the first week of this interim arrangement, ten procedures were deferred and a further two have since been deferred," she said.
"Any patient who has had their procedure deferred will be rearranged as soon as possible.
"The decision to defer procedures is always taken as a last resort and we apologise to any patient who has been affected."
Mr Stewart's Conservative colleague, Liz Smith MSP, commented: "Nursing shortages at NHS Tayside, and by extension PRI, are not particularly new but so far no-one has managed to solve this crisis.
"Patient safety must be the number one priority at PRI and not only are staffing shortages affecting patient care, they are now putting safety at risk.
"Nurses do an incredible job under enormous pressure, but unless more staff are recruited to help out, they will continue to be overworked, exhausted and disillusioned."