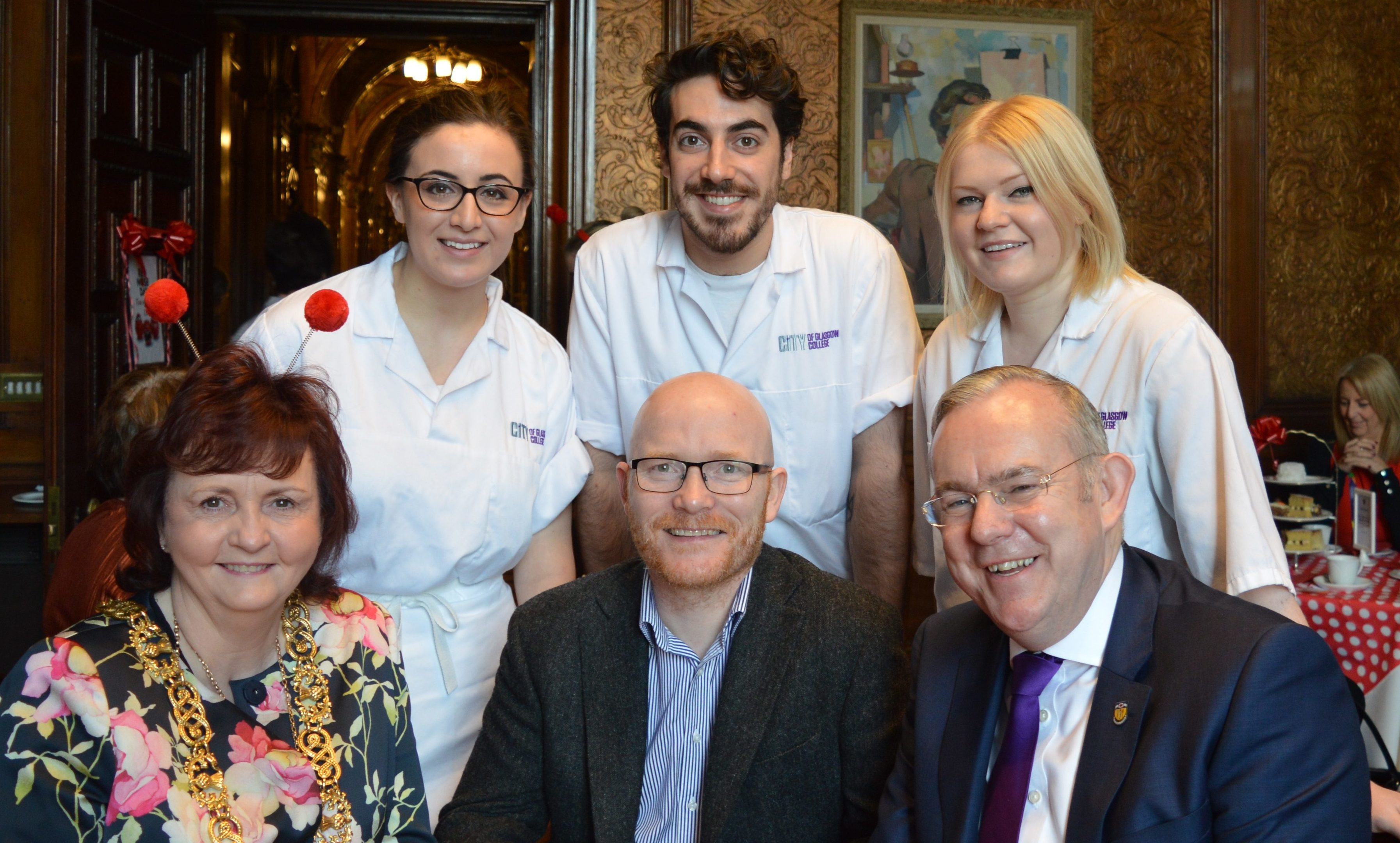 A Highland Perthshire bakery has been given a boost from Masterchef champion Gary Maclean.
The triumphant dad-of-five, who won the Professionals version of the hit BBC cookery show, has shared his expertise with brother-and-sister students David and Hannah Curston, whose family run the Breadalabane Bakery and Tearoom in Aberfeldy.
Maclean, a senior lecturer at City of Glasgow College, guided the pair as they baked up treats for a special Red Nose Day fundraiser for the Lord Provost of Glasgow, Sadie Docherty.
The spread of cupcakes, biscuits and a specially designed Comic Relief cake, was served up for Glasgow City Chambers staff, councillors, charity representatives and other dignitaries.
David and Hannah were hand-picked alongside fellow students Stephanie McMurdo and Fergal Devlin for the fundraiser at the city chambers, which was also overseen by lecturer Selina McCrae.
David, 27, said: "Being a part of this Red Nose Day event was really special. it was a great way to develop our skills and put into practice everything we've learned.
"This is the first big external event that we have provided the baking for and to so for the Lord Provost, in a setting such as Glasgow City Chambers, was a fantastic experience."
The pair hope to use their experiences – as well as top tips from Maclean – to develop and expand the family tearoom.
David said: "The bakery is run by my mum and owned by my grandparents. We began working in the tearoom from an early age, have grown up around the business and still work there at weekends."
Hannah, 18, added: "I've enjoyed the course as it has helped me develop aspects of my baking that I didn't know much about, such as cake decorating."
Ms Docherty said: "I'd like to thank the BBC's Masterchef winner Gary Maclean and his students for their support for my Tea with the LP event.
"Their donation of beautiful baking was a more appreciated addition to that supplied by the council staff and I hope we raise a lot of money for this worthy cause."
College principal Paul Little added: "It was an honour to be part of this event. I'm really proud of what our students have achieved and their contribution to such a worthwhile cause.
"Events like this offer a great opportunity to show off the unique skills and techniques acquired under expert tutelage, as well as providing invaluable experience for future careers in the industry."