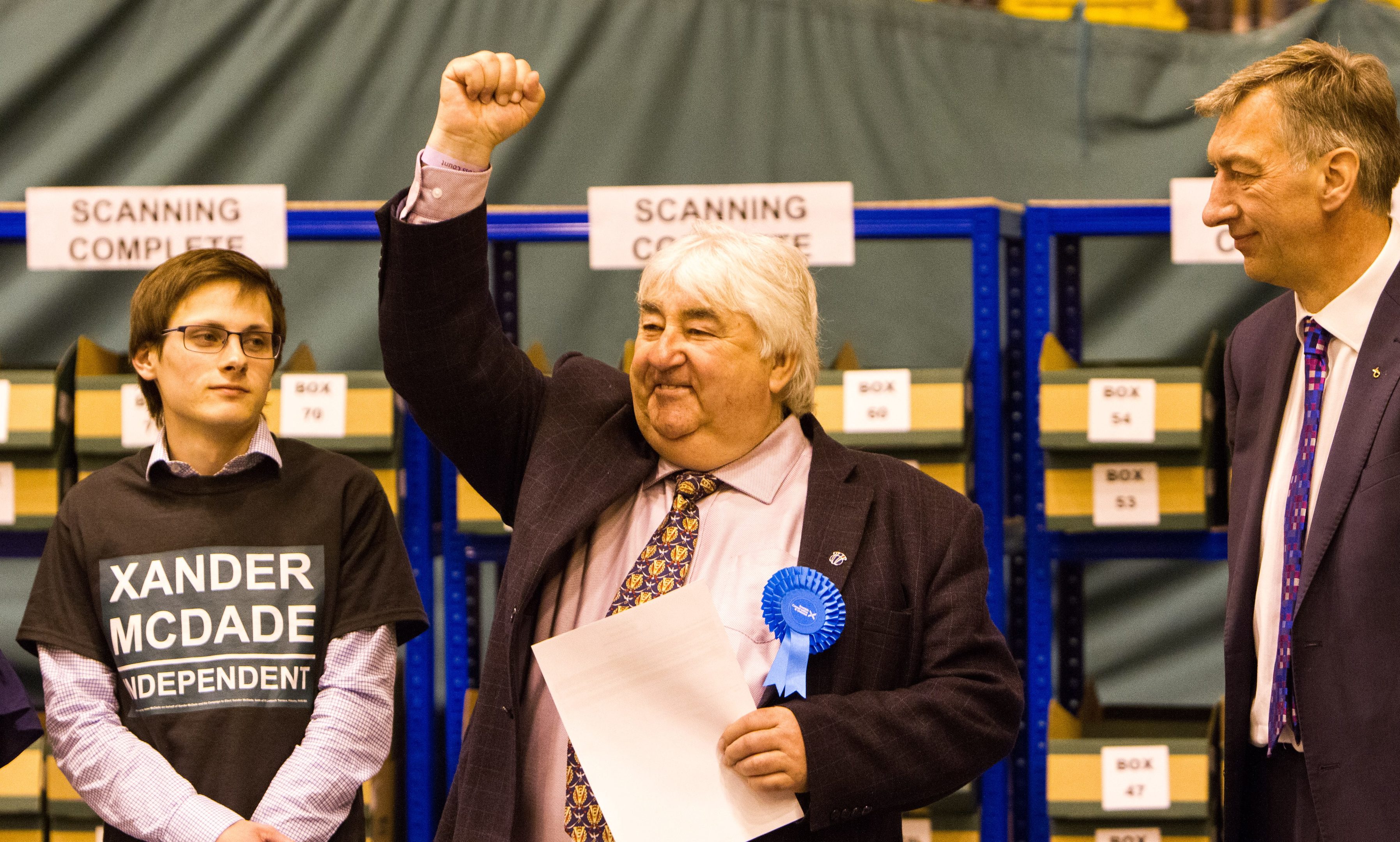 The new coalition at Perth and Kinross Council appears to have fractured, just hours after being unveiled.
The local Conservative group announced on Monday morning that a deal had finally been struck to take control of the local authority.
In a statement, the party said it had partnered up with the local Liberal Democrats, independent members and the area's sole Labour representative Alasdair Bailey.
Mr Bailey told the Courier he was happy with the new administration and posed for photos with Conservative leader Ian Campbell and other members of the coalition at the council's High Street HQ.
He said: "By working in partnership, we are able to move forward and start addressing the issues that matter most to the people of Perth and Kinross."
But by 2pm, a statement issued by Mr Bailey, via Scottish Labour's communication team, stressed he was not part of the administration and never had been. "For the avoidance of any doubt, as the Tories won the largest number of seats at Perth and Kinross, they have the right to form an administration," he said.
"I am not part of that administration although I support their right to form one. That in no way means I am in coalition with the Tories and I will continue to vote as my conscience and Scottish Labour policy dictates."
It is not clear why Mr Bailey was announced as part of the top team, but a source said it was due a breakdown in communications.
Mr Campbell – who now looks set to become council leader – said the top team remained committed to delivering "sustainable, high quality services" to the area.
The Tories became the region's biggest party at the recent local government elections. They saw their councillor numbers soar from 10 to 17, while the SNP dropped two to 15.
The new coalition will be formalised at Wednesday's first meeting of the new council.
Mr Campbell said: "I am delighted that we have been able to form a working partnership with other elected members, who are as keen as I am to see the delivery of sustainable, high quality services to the people of Perth and Kinross.
"We believe that by working together we can deliver that vision and we are all committed to making that happen."
He added: "Now the hard work begins, but by all of us facing the same way, it will make that aim much easier to achieve."
Lib Dem councillor Peter Barrett added: "I and my Scottish Liberal Democrat colleagues want to make this partnership work to make the council more agile and responsive, quicker to respond to communities, more active in devolving power to communities and better at empowering communities in their neighbourhoods and localities.
"There is much for the new partnership to do to tackle inequalities in Perth and Kinross and we look forward to driving forward the new partnership agenda."
Independent Xander McDade, who at 23 is the local authority's youngest councillor, said: "By supporting the Conservative group to form an administration, all involved are respecting the resulted delivered by the voters and I will still be holding the new administration to account.
"Councils should be about working together in the best interests of everyone, not prioritising party politics and that is what this agreement should deliver."
He added: "I'm very encouraged by Councillor Campbell's wish to bring in thoughts and ideas from across the political spectrum with regards to council policy."
The council was previously led by a minority SNP administration.
A total of 15 councillors stood down before the election including leader Ian Miller, provost Liz Grant and Labour's John Flynn who had served for 29 years.
Perth and Kinross has 40 councillors in total, including 22 new ones.
Candidates clash over new administration "wake up call"
The new administration should act as a "wake up call" for the people of Perth and Kinross, Pete Wishart has claimed.
The SNP's general election candidate for Perth and North Perthshire said the coalition was a warning of the threat posed by the Conservative's "cost cutting agenda".
He said: "Perth and Kinross residents now face five years of a services cutting Conservative administration, determined to reverse the many advances made by the previous administration.
"The people of Perthshire should now brace themselves for a bumpy and costly five years."
Mr Wishart added: "The Tories secured their success in these council elections on the single issue of opposing a second independence referendum so we have no idea what their priorities for Perth and Kinross services are.
"In all the screeds of literature put through Perthshire doors on constitutional issues, they said practically nothing about how they would actually run the council."
He said: "We do know, though, the general thrust of what's in store for the people of Perthshire from what they proposed at the last Perth and Kinross budget. In those proposals, they said that they would close all public toilets in Perth and Kinross, withdraw support from vital services such as the Citizens Advice Bureau and increase bereavement charges year on year.
"This Conservative victory in the council elections should therefore be regarded as a massive wake up call to everyone in Perthshire."
Tory candidate Ian Duncan said: "On May 4, the people of Perthshire voted overwhelmingly for change on the council, with huge swings from the SNP to the Conservatives.
"It is good to see that we will have a new Conservative-led administration, working in partnership with Liberal Democrats, Labour and Independents to take Perth & Kinross forward. This is exactly the progressive, inclusive approach that local people want to see."
He added: "Now residents in Perth & North Perthshire have the opportunity to elect a Member of Parliament who will work with our new Council leadership for the good of the area.
"It is clear that the choice is between a new Scottish Conservative MP looking to take Perthshire forward, and a SNP representative promoting division and an unwanted 2nd Independence referendum".