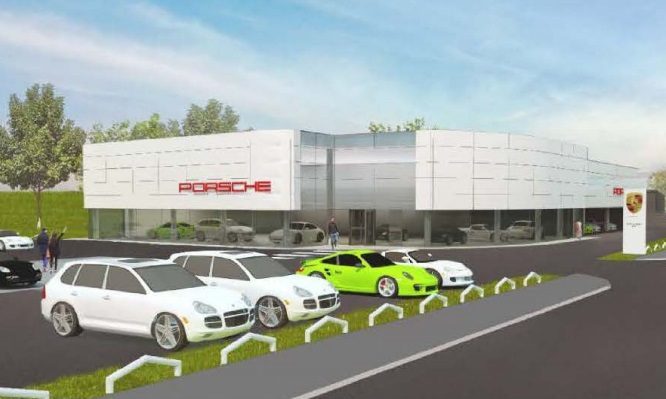 Motor industry giant Porsche is poised to set up shop in Perth, creating scores of jobs and pumping more than £20 million into the local economy.
Dealership Peter Vardy has lodged plans for a new showroom at Broxden, on the edge of the city.
The news comes just days after the company opened a new £7 million dealership in Dundee.
A one-and-a-half acre site near the Broxden Roundabout has been identified for the new Perth Porsche Centre.
In paperwork submitted to Perth and Kinross Council, agents say Peter Vardy – which was established in the Fair City in 2006 – is investing more than £5 million in the project.

A spokesman outlined the wider benefits of the development, which the company said will bring in car enthusiasts from around the country.
He said: "There would be increased retail spend in local area from staff and customers, with 60% coming from outside of the region.
"This will encourage customers to travel and stay in Perth city, often using local restaurants, amenities and hotels."
He added: "The proposed Porsche Centre would introduce 29 quality employment opportunities in sales, administration, service, technical, accounts and four intakes for the Peter Vardy Rookie Apprentice program."
Peter Vardy said it hopes to create a total of 41 full-time equivalent posts and will aim to recruit people from the Perth area.
If approved, around 144 temporary jobs will be created during the 30-week construction period.
The new centre will also benefit the Peter Vardy Foundation, which states that for every car sold, a donation will be made to feed, educate and clothe a vulnerable child in East Africa for one month.
There are only three other Porsche Centres in Scotland.
A Peter Vardy spokesman said: "Porsche Centre Perth would be the fourth chosen location for the
brand.
"This high level of investment should have minimal impact on local traffic with expectations of around 10 vehicles being serviced or maintained on a daily basis, and one to two vehicles being sold each day."
He added: "Over a 10-year period, the permanent jobs supported by activities at the new Porsche Centre will generate an estimated £22.4 million of economic output."
The Dundee CarStore on Dunsinane Industrial Estate occupies a 70,000 sq ft showroom and is one of the largest dealerships in Scotland. The development has created more than 100 jobs in sales, vehicle repair, maintenance and support services.
Councillors are expected to rule on planning permission for the Porsche centre in the coming months.