A Perthshire castle will play a central role in one of television's biggest historical dramas.
Star names including Dame Diana Rigg and Denis Lawson were among the cast and crew who descended on Blair Castle this month for filming of the highly-anticipated second series of the ITV drama Victoria, which tells the story of the famous monarch.
The first series was ITV's highest rating drama of 2016, receiving critical acclaim and an average viewing audience of 7.7 million.
The programme has been sold in 350 territories worldwide and has proved hugely popular in the US attracting more viewers than the first series of Downton Abbey.
Lawson, uncle of Ewan McGregor, will appear as the Duke of Atholl who welcomes Victoria and Albert to Scotland in scenes filmed at Blair Castle.
The series also features Line of Duty actor Martin Compston as a guest star and Dame Diana Rigg who has joined the regular cast as the Duchess of Bucchleuch, the young queen's new mistress of the robes.
Jenna Coleman and Tom Hughes reprise their roles as Queen Victoria and Prince Albert alongside series regulars including Nell Hudson and Peter Bowles.
Picking up six weeks after the first series ended, the new season establishes Victoria as a working mother, learning to balance her responsibilities as both parent and queen.
However, Prince Albert is still struggling to find a role for himself alongside his powerful wife as she returns to her duties.
Blair Castle administrators said they are delighted to be associated with the programme and the worldwide exposure it will bring to Perthshire.
"We are absolutely delighted to be involved with this prestigious drama programme, which has already been critically acclaimed," said Julia Sim , sales and marketing manager for Blair Castle.
"Blair Castle is central to Queen Victoria's story in Scotland, and it is fantastic to have the scenes actually filmed here. Dennis Lawson is a very fitting actor to play the Duke. We look forward to viewing the finished programme. Our team are all very excited."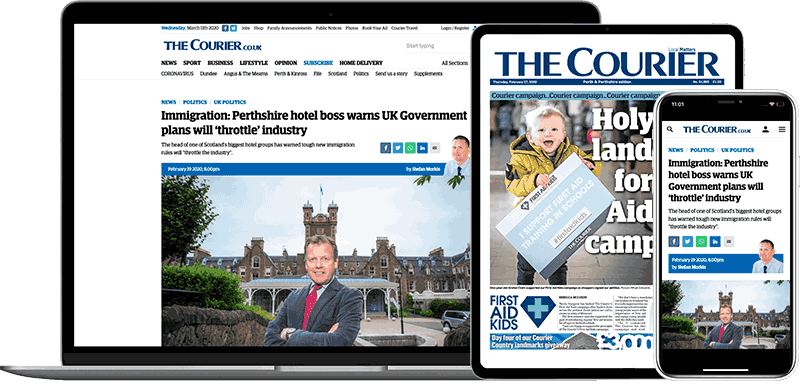 Help support quality local journalism … become a digital subscriber to The Courier
For as little as £5.99 a month you can access all of our content, including Premium articles.
Subscribe